Lebron James' High School Years Could Get Narrative Feature Treatment At Universal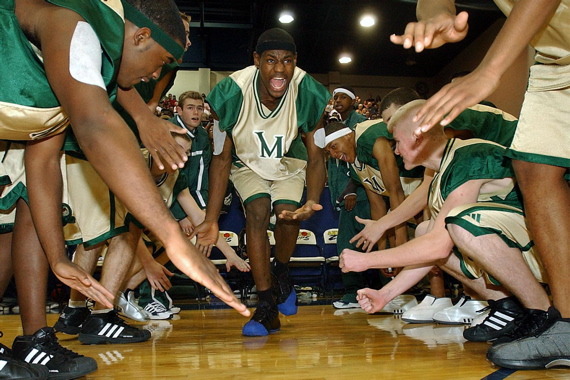 UPDATE: Universal Pictures has likely acquired the rights via Variety. Original story follows.
The inspiring story of Lebron James' high school basketball career was covered quite well in the 2008 documentary More Than A Game. Now, that story is getting a narrative treatment from a couple of Oscar nominees. Terence Winter (The Wolf of Wall Street, Boardwalk Empire) and Rachel Winter (Dallas Buyers Club) are among the people selling a pitch that would tell the story of James' high school days before he became an NBA superstar. Read more about the Lebron James movie below.
Deadline broke the news of the project and, apparently, at least two – and possibly four – companies are interested in being in the Lebron James movie business.
These days, Lebron James is known throughout the world. The multi-year NBA champion and league MVP is the best basketball player in the world and quickly rising the ranks alongside other legends like Michael Jordan, Magic Johnson, Wilt Chamberland and others.
Before he came to the NBA, however, James was a 17-year-old at St. Vincent-St. Mary prep school in Akron, Ohio. There, even at that age, everyone knew he was a special player, and he received attention from international sports press. Simple high school games turned into media frenzies. Not only was the situation pressure-packed for James, but for his teammates and best friends. James  skipped college and became the #1 draft pick of the Cleveland Cavaliers.
The documentary version of the story, directed by Kris Belman, focuses mostly on the lives of James' teammates and how the crazy attention Lebron got changed and inspired them to do better things. One would imagine the film version would pay them a lot of attention too, as that sort of zero to hero story is the Hollywood sports formula to a "T."
James himself, along with his manager Maverick Carter, are producing along with the Winter's and Frank E. Flowers. There's no word if the film has any connection to the 2008 documentary.
Though this story will soon be in active development, we'll likely see James first in the comedy Ballers, which he's also producing.
Here's the trailer for More Than A Game: