'Olympus Has Fallen' Sequel Will Fall In Fall 2015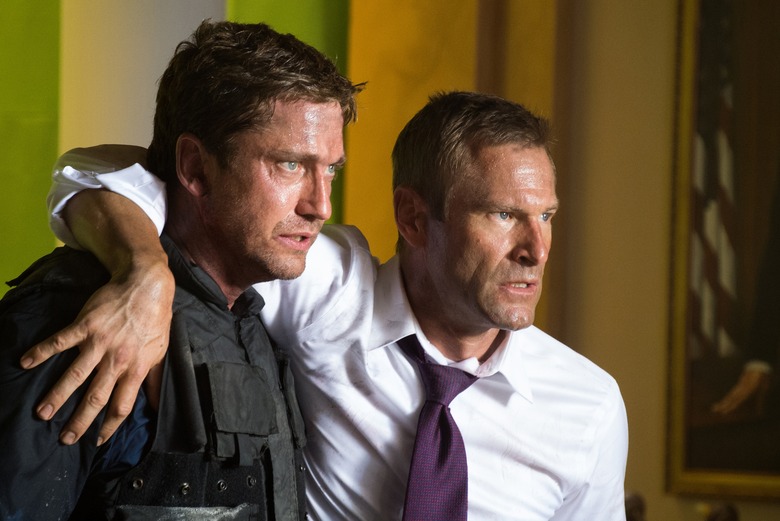 Olympus Has Fallen did so well in America last year that its sequel is going across the pond next year. Focus Features has acquired U.S. rights to London Has Fallen and set it for a fall 2015 release date. The action-packed follow-up brings back Gerard Butler as hyper-competent Secret Service head Mike Banning. Hit the jump for new plot details and more.
The script, by Creighton Rothenberger, Katrin Benedikt, and Christian Gudegast, picks up after the British Prime Minister dies under shady circumstances. Leaders from the world over gather in London to pay their respects. But bad guys take advantage of the event to try and wipe out the most powerful people on Earth in one fell swoop. It falls upon three men to save the day: Mike Banning, the POTUS, and a distrustful English MI-6 agent.
Olympus Has Fallen was released in March of last year by FilmDistrict. It made nearly $100 million at the domestic box office and racked up another $62 million overseas. When FilmDistrict folded, Focus was expected to take over distribution for the sequel.
As of last year, it was expected that most of the original film's cast, including Aaron Eckhart, Morgan Freeman, Angela Bassett, and Radha Mitchell would return. However, it sounds like Butler is the only one confirmed at the moment. Although Antoine Fuqua directed the original, he's opted not to come back for the sequel. The search for a new director for London Has Fallen is already underway.