Disney Turning Star Wars Films Into Interactive Mobile Apps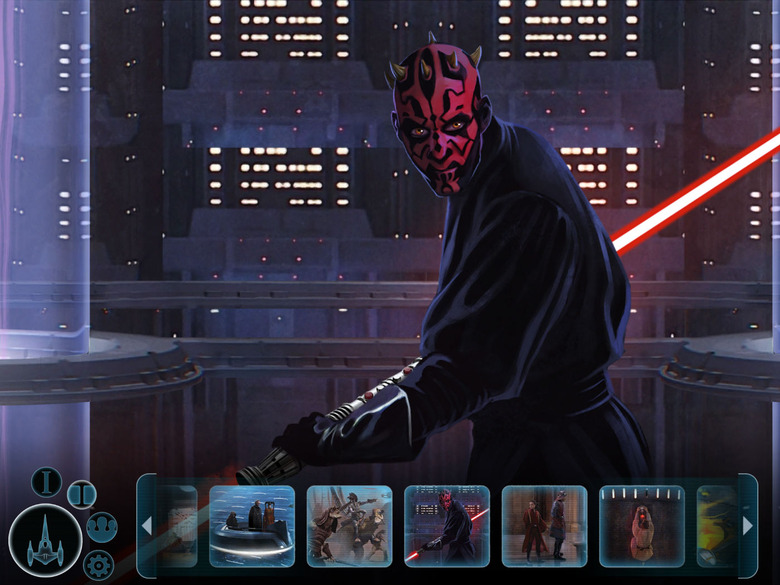 Disney has a conundrum with Star Wars Episode VII. Yes, they're making a highly-anticipated sequel to one of the greatest franchises of all time. But it's also a sequel to six other films. Audiences will likely need an intimate knowledge of those films. And Disney doesn't own the rights to those movies. So how do you promote six movies you don't own, but are necessary to your blockbuster? New media.
A few weeks back, Disney announced they'd be releasing children's book versions of the original films. Today, they revealed a plan to release specially-designed mobile apps called Star Wars Journeys that turn each of the six films into interactive experiences and games. The first episode is out today and you can read more info and see screenshots below.
Variety broke the news of Star Wars Journeys. The first installment, Star Wars Journeys: The Phantom Menace, is now available. So far it's only on the Apple devices, however, and it costs $6.99. They plan is to roll out a new app for each movie leading up to Episode VII. Here's a video:Star Wars Journeys: The Phantom Menace is broken into multiple parts. The biggest one is an interactive story mode that tells the story of the movie as an interactive experience, including options to explore more information on characters, vehicles, and more. There's also a game in the app based on the podrace sequence.
There are two sides to this coin. First is the very cool idea of experiencing Star Wars in a whole new way. I like that about it. And I like that it's aimed at young kids with short attention spans who can learn about the movie at their leisure. What I don't like is that the whole idea pushes people away from the movies. Popping in a DVD is much easier than downloading an app and swiping through a story. But, like I said above, Disney doesn't own the rights to those DVDs. Fox does. And this is a creative way to make money off movies they don't own the rights to.
You can read more about Star Wars Journey: The Phantom Menace at the Variety link and soon on the official site, certainly. Here are some images: