'Sharknado 3' Announced: Which City Will Get Hit In The Threequel?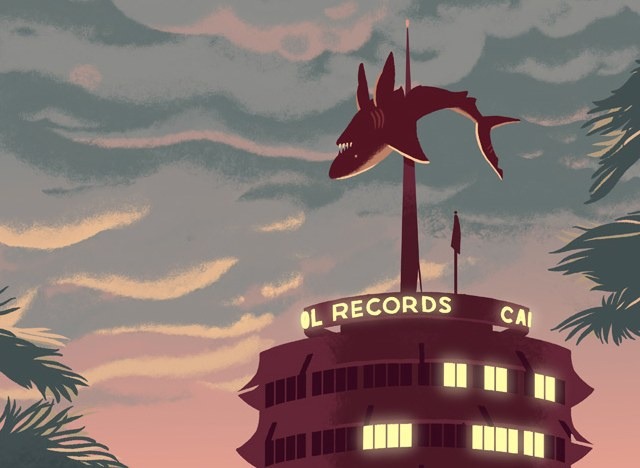 Syfy stumbled into a monster hit with Sharknado, a joke of a thriller created by The Asylumn — a company best known for their mockbuster direct-to-video b-movies starring c-level stars. The ridiculous concept of Sharknado took the twittosphere by storm (pun intended) and has, like it or not, now become a modern cult classic. A sequel was quickly announced, and Sharknado 2: The Second One is set to air on Syfy on Wednesday, July 30 at 9/8c. But it doesn't stop there, The Asylum and Syfy want to make it a trilogy, today announcing that Sharknado 3 will be released in Summer 2015. No word on a title or if "stars" Ian Ziering and Tara Reid will return.
The first film destroyed Los Angeles and the sequel is set in New York City, but we don't know which city will be destroyed in the third installment. We only know that the story will be set in a new city. One would assume that the movie needs to be set in a big city near a ocean. Possible options include Atlantic City, Miami, Palm Beach, Honolulu, Orlando and many others. New Orleans might be in very bad taste. Its also possible the series could go international with the third film. Read the full press release after the jump, and let the speculation begin.
Sharknado 3 Press Release
ANOTHER CITY WILL FACE TOTAL DESTRUCTION WHEN SHARKNADO 3 PREMIERES ON SYFY IN SUMMER 2015, NEW ORIGINAL MOVIE TO BE PRODUCED BY THE ASYLUM
NEW YORK – April 30, 2014 – Los Angeles and New York were not enough! Syfy and The Asylum today announced that yet another city will be devoured by flying sharks when the new Original Movie Sharknado 3 premieres on Syfy in Summer 2015.
But which city will it be...?
This latest installment in the global pop culture sensation will once again be produced by The Asylum.
Sharknado 2: The Second One, starring Ian Ziering, Tara Reid, Vivica A. Fox, Mark McGrath, Kari Wuhrer and Judah Friedlander, and directed by Anthony C. Ferrante, will premiere on Syfy Wednesday, July 30 at 9PM (ET/PT).
In Sharknado 2, a freak weather system turns its deadly fury on New York City, unleashing a Sharknado on the population and its most cherished, iconic sites – and only Fin (Ian Ziering) and April (Tara Reid) can save the Big Apple.
And what will happen in Sharknado 3...?
About The Asylum
The Asylum is one of the world's leading brand-oriented motion picture and television studios. With a focus on high-concept, market-driven entertainment like Sharknado, The Asylum finances, produces and releases 25 films per year through its direct pipeline to the nation's top retailers and its network of international partners. Since its founding in 1997, The Asylum has released more than 500 films and has built a library of over 200 original productions, including top-rated movie premieres for Syfy, Lifetime, and Animal Planet networks. The Asylum released 10 theatrical films in 2013 and is producing a 13-episode action-horror series for 2014.
About Syfy
Syfy is a media destination for imagination-based entertainment. With year round acclaimed original series, events, blockbuster movies, classic science fiction and fantasy programming, a dynamic Web site (www.Syfy.com), and a portfolio of adjacent business (Syfy Ventures), Syfy is a passport to limitless possibilities.Originally launched in 1992 as SCI FI Channel, and currently in 96 million homes, Syfy is a network of NBCUniversal, one of the world's leading media and entertainment companies. NBCUniversal is owned by Comcast Corporation. (Syfy. Imagine Greater.)