Marvel Universe Joins The Video Game 'Disney Infinity'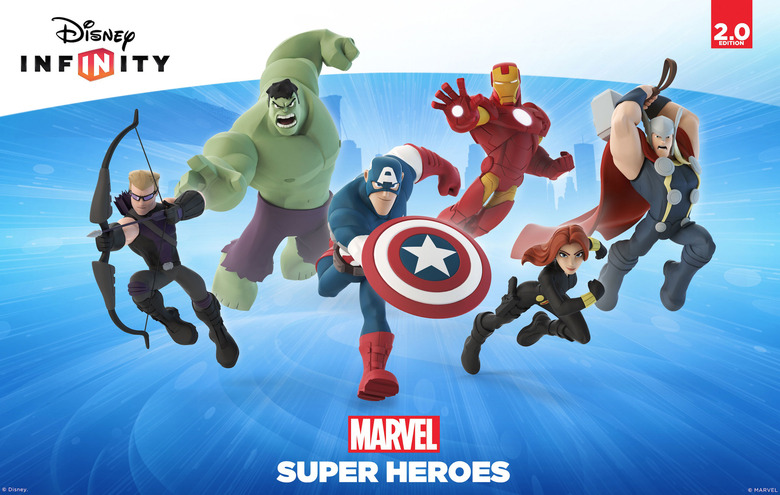 No company has even close to the character roster Disney has. In addition to their original characters, theme park characters, animated movie characters and Pixar characters they now own all the Marvel characters and Lucasfilm characters. But how to get each of those universes into one video game? Enter Disney Infinity, a genius idea where users can buy collectable statues of characters which make that character playable in a unique, free-roaming video game world. The first version of the game was released in 2013 and became an instant success.
That first iteration of the game only used Disney characters but a 2.0 version of Infinity has just been revealed which will tie in Marvel's characters. Below, check out the first trailer and images of Disney Infinity Marvel Super Heroes.
Here's the trailer:
Disney Infinity Marvel Super Heroes
Here are just a few character images, screenshots, and photos of the figures release. Click on each for larger versions.
Reports from event revealed the Guardians of the Galaxy characters will soon be released for the game as well, which makes sense as the movie comes out in August.
And here's the full press release:
Today, Disney Interactive and Marvel Entertainment confirmed that the world's most iconic Super Heroes are assembling for Disney Infinity: Marvel Super Heroes – the 2.0 edition of the #1 best-selling new hybrid toy / video game of 2013, according to the NPD Group's video games retail sales data.
Disney Infinity: Marvel Super Heroes features more than 20 new interactive figures from across the Marvel universe, original storylines penned by award-wining Marvel comic writer Brian Michael Bendis, and an all-new Toy Box mode that makes it easier for players to create and share their one-of-a-kind levels and mini-games with family and friends. In addition, all characters and power discs from last year's release of Disney Infinity will be compatible with the Disney Infinity: Marvel Super Heroes Toy Box.
"Disney Infinity was, from the start, built to be an interactive experience where players could bring together their favorite Disney characters and stories to create new Disney memories. With the introduction of Disney Infinity: Marvel Super Heroes, we're ushering in a new chapter of adventures, featuring a cast of the world's most popular Super Heroes," said Jimmy Pitaro, President of Disney Interactive. "Bringing popular and iconic Marvel characters to the Disney Infinity platform truly takes this game to the next level."
"We've worked closely with the Disney Interactive team to deliver an incredible line-up of Marvel characters and great storytelling for the next chapter of Disney Infinity," said Peter Phillips, EVP and General Manager, Interactive & Digital Distribution at Marvel Entertainment. "The 2.0 edition will allow Marvel fans around the world to interact with their favorite Marvel Super Heroes in entirely new ways, including compelling gameplay and a new line of collectible interactive figures."
The Avengers' Iron Man, Black Widow, Thor, Captain America, Hulk and Hawkeye will debut when the game launches this fall, along with additional Play Sets and characters from other popular Marvel and Disney franchises, which will be announced in the coming months. Disney Infinity: Marvel Super Heroes will be available for the PlayStation®4 and PlayStation®3 computer entertainment systems, Xbox One, the all-in-one games and entertainment system and Xbox 360 games and entertainment system from Microsoft, the Wii U™ system from Nintendo, PC and iOS tablets and smart phones.
"Marvel Super Heroes fit perfectly into Disney Infinity, and with them we are pushing the platform's limits of creativity and imagination," said John Blackburn, VP and General Manager of Avalanche Software. "We've enhanced and redesigned the gameplay to match the Marvel characters, while also making it easier than ever for players to express and share their own creativity."
Can version 3.0 be far behind with Star Wars and Indiana Jones characters? We'll have to wait and see. For now, will you be buying the new Disney Infinity Marvel game?