Cool Stuff: Hot Toys Bruce Banner And Hulk Sixth Scale Figure Set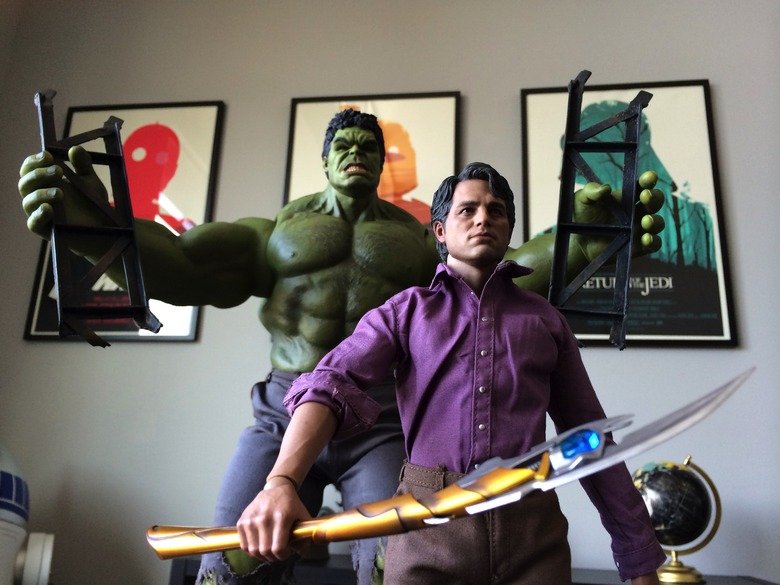 Sideshow Collectibles sent me a sample of Hot Toys' Bruce Banner and Hulk Sixth Scale Figure set. Lets unbox these figures and take a look at what else is inside the box. After the jump you will find photos of the Hot Toys Bruce Banner and Hulk Sixth Scale Figure Set, alongside my thoughts on the product.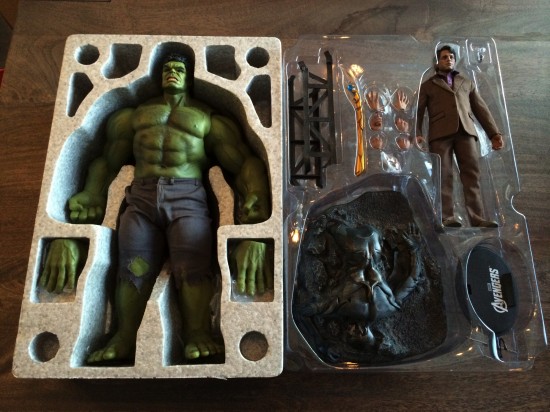 I was never a huge fan of The Incredible Hulk. Never watched the old Lou Ferrigno television series. I read comics growing up, mostly sticking to the Marvel Universe. I always felt the Hulk to be one of the more fantastical elements (a reason I usually stayed away from most of the DC comic universe) and avoided most of his crossover issues. The Ang Lee movie didn't do anything for me, but strangely, it was the often panned Louis Leterrier 2008 film adaptation of The Incredible Hulk starring Ed Norton that got me interested in the character. And I don't think anyone walked out of Joss Wheadon's The Avengers without having a brand new love for the big green guy — he stole the show. Now everyones a Hulk fan, including me. Hey, at least I can cop to it!
Sideshow/Hot Toys Bruce Banner and Hulk Sixth Scale Figure Set  Reviewed
The Hot Toys Bruce Banner and Hulk sixth scale figures are designed off of the versions we saw in Joss Whedon's film adaptation of The Avengers, and not the comic book or television series designs. Hulk looks massive, and his paint job (by JC.Hong) is awesome. The Hulk is almost 17 inches tall, eclipsing the 12 inch tall Banner figure.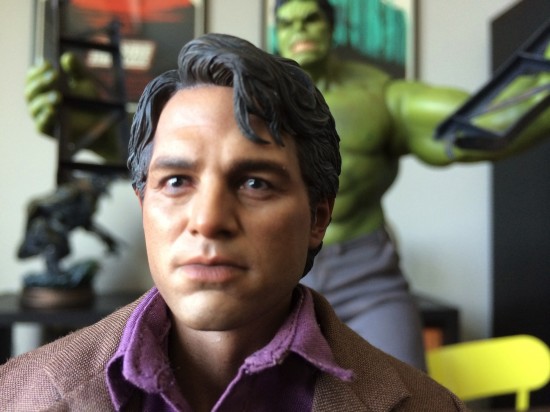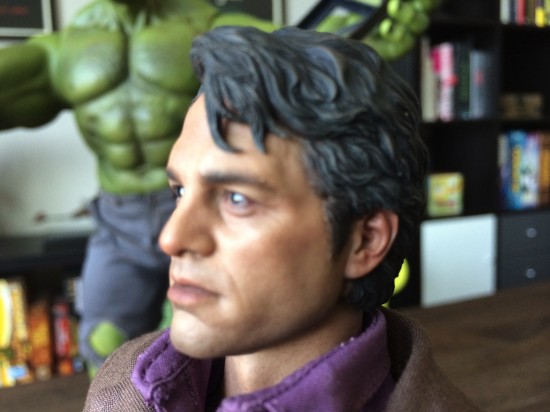 If I have any real complaint about this release, it is that the Bruce Banner head sculpt by Kojun (Painted by JC. Hong) looks kind've like Mark Ruffalo, but not quite up to the incredibly life-like standards We usually see from Hot Toys. From a couple feet away it looks great, but up close is when you notice the differences in the details.
Banner is dressed in brown paints, a pair of brown shows, a purple button-up shirt and a removable brown blazer. Banner has over 30 points of articulations and comes with eight interchangeable palms including: a pair of fists, relaxed palms, open palms, a left palm for holding glasses and a right palm for holding Chitauri scepter. The Chitauri scepter looks good in Banner's hand with the character in a battle pose, but I almost wish they had come up with alternate options for the accessory — like for instance, if it could be sticking out of a hole in the back of the fallen Chitauri footsoldier.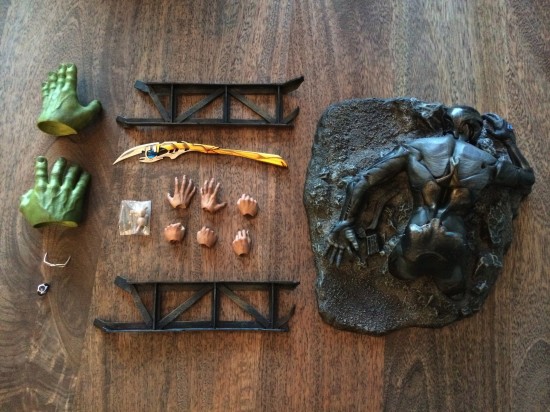 Bruce Banner also comes with a couple smaller accessories: a pair of glasses and a watch which you can attach to his wrist. As with most of the human figures from Hot Toys, Banner comes with a figure stand, complete with Bruce Banner nameplate and The Avengers movie logo.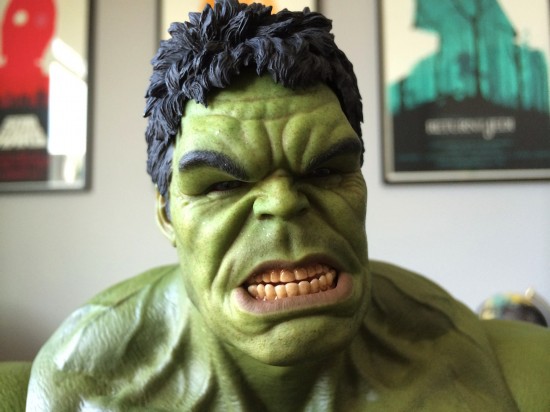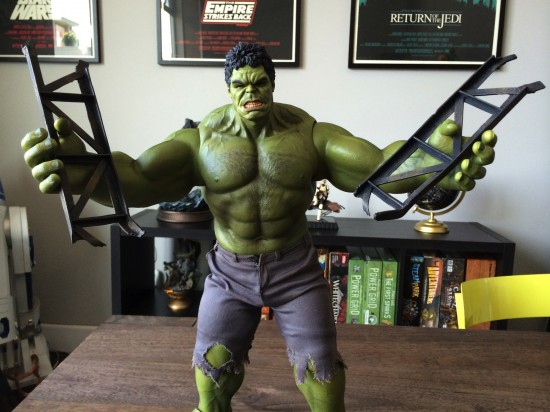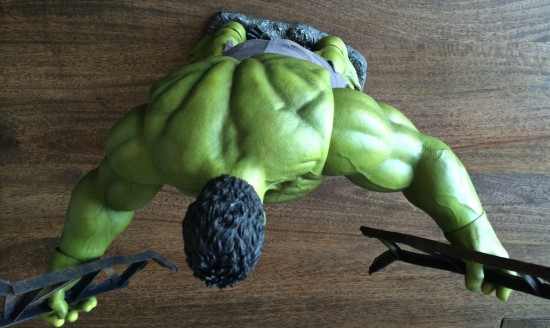 Hulk's face is highly detailed and sports an incredible paint job, complete with his signature angered look. His teeth look life-like, a great detail that Hot Toys always gets right. The figure features a green-skinned muscular body skin with detailed texture and tendons, with over 20 points of articulations. The figure even has built-in joints in neck and arms which allow more flexible movement.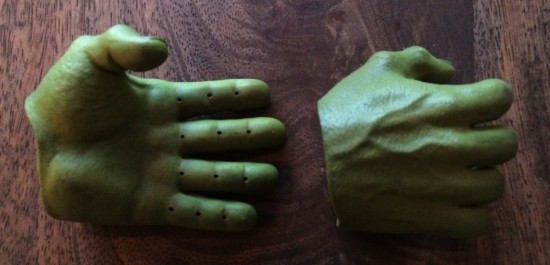 The figure comes with two pairs of interchangeable palms, one set of relaxed and another set of forceful fists. The relaxed pair of palms have posable joints to allow you to configure Hulk's hands into many possible positions, or to grip objects like the included structural steel pieces. Hulk's finger nails have a real-looking glossy shine to them, great detailing.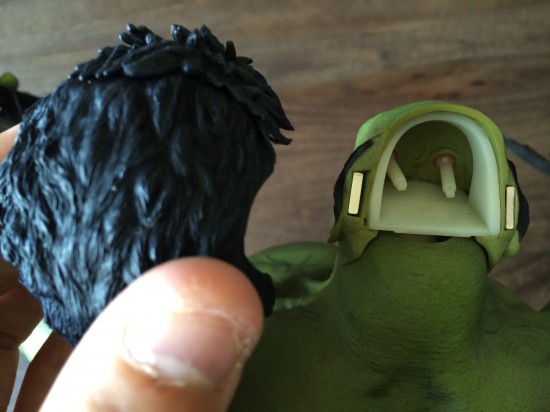 Hulk has a cool feature that allows you to remove the back-half of his head (which is attached by strong magnets, giving you access to move his eyeballs individually in any direction you would like. You want Hulk to be looking to the right? You got it. You want Hulk to be looking cross-eyed at the non existent mini Ant-man figure flying inches from his nose? Also possible.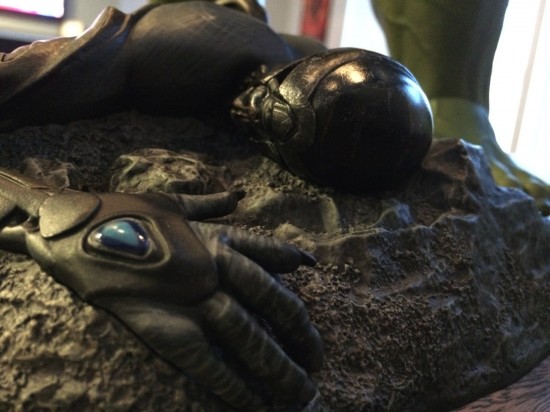 I really love the battleground diorama base with the fallen Chitauri footsoldier. It is highly detailed and a great addition to the presentation of the figure — almost makes it look like a statue. Hulk barely fits onto the diorama base as intended, but you can make it work.  The metal-like structural steel pieces fit perfectly in the Hulk's hands and make the figure look even stronger than the sculpture already does. The paint job on these pieces also look great at a close-up, moreso than you would expect from an accessory.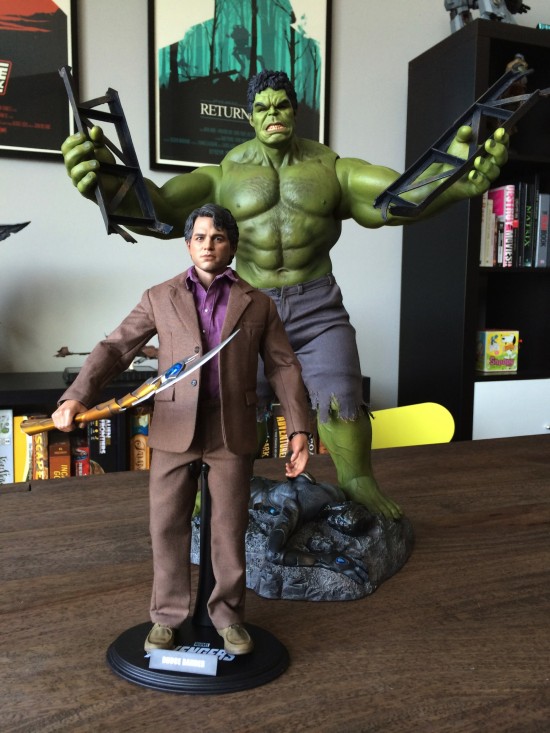 Here is the official product description for the Hot Toys Bruce Banner and Hulk Sixth Scale Figure Set:
Sideshow Collectibles and Hot Toys are thrilled to present the highly anticipated Bruce Banner and Hulk Sixth Scale Figure Set. The Bruce Banner collectible figure has been specially crafted based on the image of Mark Ruffalo as Bruce Banner in the film The Avengers and features a newly developed head sculpt, highly-detailed costume, and accessories. The Hulk collectible figure has been crafted based on the image of the angry giant from The Avengers, featuring a head sculpt with adjustable eyes, sculpted muscular body, and a diorama base with fallen Chitauri footsoldier and metal-like structural steel.
The Hot Toys Bruce Banner and Hulk Sixth Scale Figure Set is sold in the US by Sideshow Collectibles for $509.99.