Star Wars Bits: Star Wars Canon, Star Wars Day, And 'Star Wars Rebels'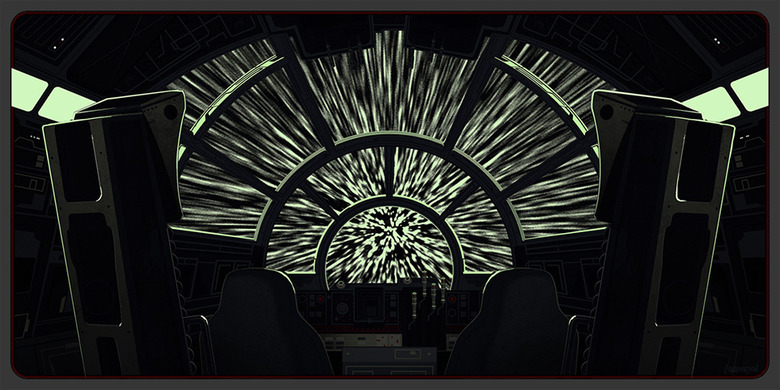 Everyone's making plans for Star Wars Day on May the 4th. After the jump:
Future Star Wars games will be canon, says Lucasfilm
Timothy Zahn weighs in on the EU and official canon
Chris Miller points out his own contribution to the canon
See a promo for The Big Bang Theory's Star Wars episode
Browse some Star Wars Day prints from Dark Ink
Get details on Disney's Stormtrooper-centric art exhibit
Watch the first full Star Wars Rebels trailer on May 4
In the meantime, flip through some Star Wars Rebels pics
... and read a lengthy interview with Rebels' Dave Filoni
That may explain why the highly anticipated Star Wars 1313 was cancelled, but it does't explain why the latest expansion for Star Wars: The Old Republic was delayed.
"[A]s far as The Old Republic MMO is concerned, nothing is going to change," said a Lucasfilm representative. "[TOR] has always been a part of the Expanded Universe, and that's not going to change." [
]
Meanwhile, one of the EU's biggest figures, author Timothy Zahn, has weighed in with his thoughts on the Lucasfilm announcement.
[A]s far as I can tell from the announcement, LFL is *not* erasing the EU, but simply making it clear that nothing there is official canon. That's not necessarily a bad thing, nor does it immediately send everything into alternate-universe status. If nothing from the Thrawn Trilogy, say, is used in future movies (and if there's nothing in the movies that contradicts it), then we can reasonably continue to assume that those events *did* happen. It looks to me like the "Legends" banner is going to be used mainly to distinguish Story-Group-Approved canon books from those that aren't officially canon but might still exist.
Zahn adds that he hasn't been asked to write any new books, and that he doesn't know what he'd do if he were. Read the rest of his statement on
.
Speaking of non-canon, EU books, check out Del Rey's new covers for two upcoming collections: Star Wars: The Han Solo Adventures by Brian Daley and Star Wars: The Lando Calrissian Adventures by L. Neil Smith. Each book contains a trilogy of novellas originally published between 1979 and 1983.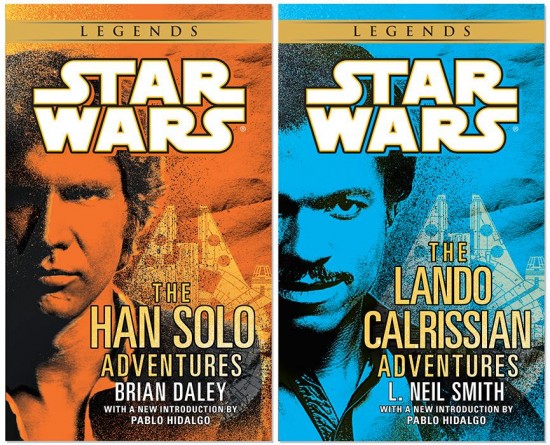 Both books will hit shelves this fall. [
]
Of course, the existing Star Wars movie are still definitely canon — and as director Chris Miller points out, that could conceivably include The Lego Movie.
Star Wars canon will only include the films. I assume that includes the cameo in the LEGO Movie. Batman on the Millennium Falcon is canon!

— Christopher Miller (@chrizmillr) April 26, 2014
Okay, so Lucasfilm would probably beg to differ. But wouldn't the world be such a better place if Miller were right? [Twitter]
Star Wars Day is just around the corner, and that means there's about to be a big spike in Star Wars-related content. Among other things, we're getting a special Star Wars-themed episode of The Big Bang Theory. Watch a promo below.
Though Star Wars Day is actually Sunday, May 4, the Big Bang Theory episode will air on Thursday, May 1. Not even the Force is powerful enough to disrupt TV scheduling. [via
]
Also coming on Star Wars Day? New Star Wars silk screen prints from Dark Ink. You can see one of them at the top of this page (that's "She's Fast Enough for You, Old Man" by Tim Anderson); browse a few more of them below.
Preview more prints at
. All of these will go on sale Sunday, May 4 at 1 PM Pacific time on
. [
]
Disney is getting artsy for Star Wars Day as well. Lucasfilm has announced an exhibit called Star Wars Legion, which consists of artists' reinterpretations of the iconic Stormtrooper helmet. Get a peek at some of them right here.
Star Wars Legion will run for three days (May 2-4) at the Robert Vargas Gallery in Los Angeles. Peek at more of these sculptures at
, and get location and time details at
.
And yes, there will be official, in-canon Star Wars content coming on Star Wars Day as well. Disney has announced via press release that the first full-length trailer for Star Wars Rebels will be coming on May 4, at precisely 12:01 AM Pacific time. Keep an eye on
for the video.
In the meantime, these new Star Wars Rebels images should whet your appetite.
[
,
]
You want even more Star Wars Rebels, you say? Well, you're in luck. Executive producer Dave Filoni recently sat down for an in-depth interview in which he discusses how Rebels came to be, the new characters, fan skepticism, and much, much more. To give you a taste, here are his thoughts on the new, more unified Star Wars universe.
The nice thing I can say is, it's all more connected than it's ever been at Lucasfilm. Before, we would change something in Clone Wars and people would be like, "Why are you changing canon?" We're like, "Actually, we're not. This is the way George wants it." Now, that is a unified approach where I'm talking to several different people on different projects, and we're all aware of what each other's doing. We all get great ideas from each other and share ideas, so it's a much more unified effort.
There's much, much, much more where that came from, so read the full interview by clicking over to IGN.