Making A Movie: How We Will Do A Multi-Cam Shoot Of Stephen Tobolowsky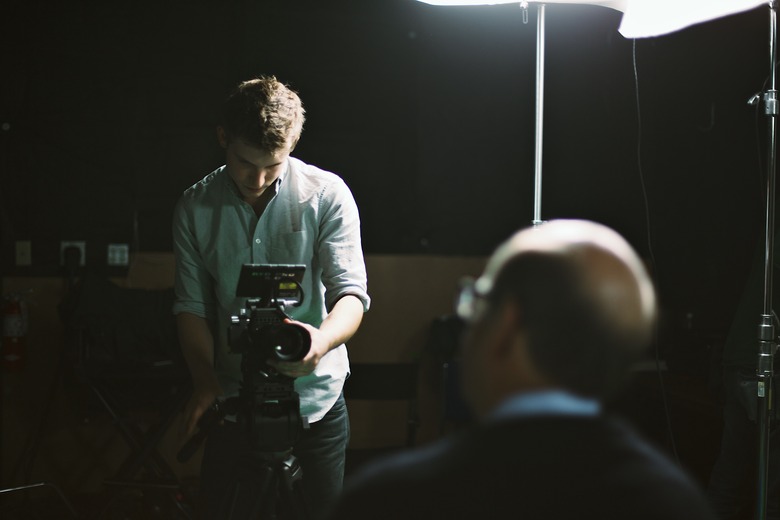 UPDATE: I made a mistake on which cameras will be our primary cameras. They are actually Sony HSC-100's. I've updated the post below.
"Making a Movie" is a series of columns that chronicles our attempt to make, market, and distribute a film with Stephen Tobolowsky in 2014. 
We're just a few days away from our live performance of The Tobolowsky Files at the Moore Theatre, and its accompanying film shoot. Sales are going briskly, but if you're local to Seattle, I hope you'll find the time to buy some tickets and join us on Saturday.
I've performed with Stephen several times already and it's always been a great experience. But setting up these live shows, advertising them, and getting butts in seats has always been quite a challenge. This time around, we're actually adding an HD multi-cam shoot to it, exponentially increasing the complexity of the event. Hit the jump to learn more about how we plan to pull this off.
After much consideration, we decided to hire a skilled technical director to handle many of the live elements of the concert portion of our film. There is simply no substitute to having someone on-site who does this for a living. Consequently, we think the footage we're going to get will look fantastic.
What follows is a crudely drawn/photographed diagram of how we plan to set up the shoot at the Moore Theatre on Saturday: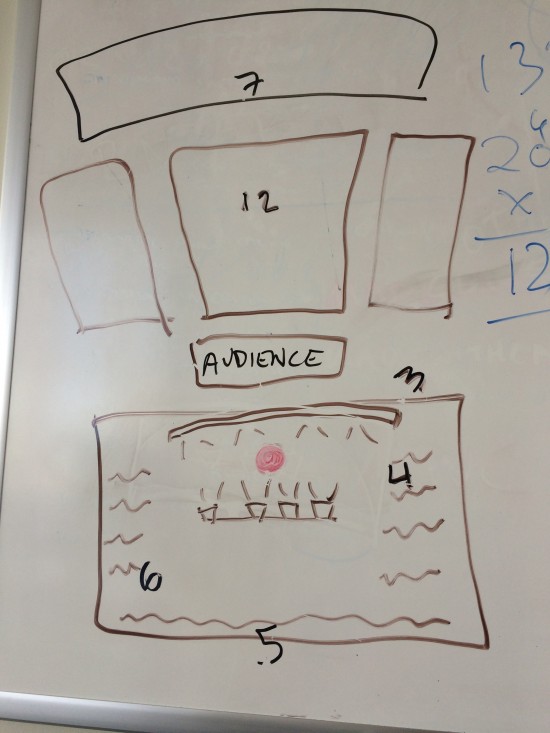 Cameras 1+2: The primary cameras. One will be close up, one will be slightly wider. These cameras will capture probably 80% of the footage we end up using from this performance
Camera 3: Primarily for audience shots
Camera 4: Side shot of Stephen
Camera 5: Shot of Stephen and audience from behind
Camera 6: Roving RED camera on a Movi
Camera 7: This balcony camera will just be used to film a timelapse of the evening
All the cameras will be RED cameras, except for cameras 1+2, which will be Sony HSC-100's. There are many reasons for using broadcast cameras, including the ability to easily maintain focus as Stephen is moving around. Stephen is represented by the red dot above and will be illuminated by footlights below (to eliminate shadows underneath the chin), as well as several lights from above behind him. A black curtain will be illuminated behind him, but it will be quite far back on the stage. This distance will hopefully allow our primary 1-2 cameras to get some shallow depth of field while ensuring Stephen is in focus for the entire duration of the shoot.
We will also have a live switched feed, which will allow us to record live-to-tape in addition to recording all the footage from each camera separately. The incremental cost of having a live switched feed was minimal, so we felt it was worth it to be able to walk out of the theatre with a usable edit of the concert portion of the film.
Speaking of which: What other "portions" of the film will there be, you may ask? Stephen recently came up to Seattle to shoot an extended interview with me and the crew from Super Frog, Errol Morris-style. The results of that shoot will likely make it into the final film as interstitial segments between his full-length stories.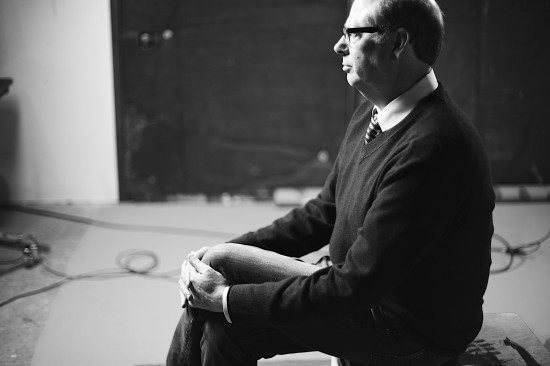 In addition to this interview and the concert component, we are exploring the idea of adding animation to certain parts of Stephen's stories. But even with these two components alone, we feel strongly that we have enough material for a satisfying movie viewing experience.
***
As I mentioned before, it was a significant investment to get a skilled technical director for the show. But my mindset right now reminds me of that of a dear friend when he got married. He told me that as the Big Day approached, money seemed to lose all meaning.
"Oh, [Valued Relative] needs a flight to the wedding? Here's a check!"
"[Beloved friend] needs a ride from the airport? Here's $50!"
Monetary concerns melt away because you realize that all that matters is getting people there and making them happy for the big event. In my situation, I've realized what an incredible opportunity it is to be able to make a film, and how truly scarce these opportunities are in life. And so when you get an opportunity like this, you'd better make the most of it. So my last few weeks have been all about:
"Oh, it'll cost ____ to rent out a nice room for our VIP Extreme Kickstarter backers? DO IT!"
"Wait, the cost of hiring all these skilled camera operators is more than the cost of a 4-door sedan? MAKE IT SO."
"Hold on, you're telling me I've blown through all the Kickstarter money and need to dip into my personal savings to complete this crucial part of the movie? OKAY!"
Now I understand how movies go over budget all the time...
It's not about being reckless with money. It's more that money becomes a secondary concern to making something the best you can possibly make it. Stephen and I agree that the only feeling more unsettling than writing massive checks left and right is regretting that you didn't do everything you possibly could have to create something amazing with some talented people. Every director hopes that the movie they make will resonate with people for years to come and if we want that to be a possibility, we'd better spare no expense.
We hope you'll join us as we continue on this grand adventure. You can still buy tickets for Saturday's show.
In future editions of "Making a Movie": Designing poster art, securing music rights, and the art of integrating illustration/animation.