'Sinister Six' Villains Not Decided Yet, Despite 'Amazing Spider-Man 2' Tease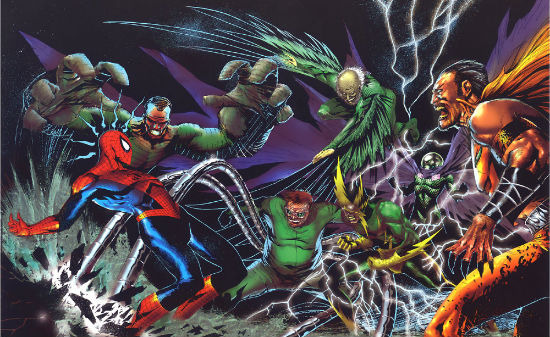 Sony has promised that fans who Shazam the end credits song of The Amazing Spider-Man 2 will get "a look into the sinister future" of the franchise. But apparently, that future isn't set in stone just yet.
According to a new report, although the Green Goblin, Doctor Octopus, Rhino, Vulture, Kraven the Hunter, and Mysterio are the ones teased in the special sequence, they aren't necessarily locked in as the Sinister Six villains. Hit the jump to find out why not, and when the new movie will get going.
In the comics, the original Sinister Six was comprised of Doctor Octopus, Electro, Kraven the Hunter, Mysterio, Sandman, and Vulture. But various villains have rotated in and out over the years, including some that have already been introduced in the Amazing Spider-Man universe. Goddard has plenty of choices.
At least, he does for now. According to another source, production on Sinister Six could get going as early as January 2015. Meaning Goddard will have to lock in his supervillain team pretty soon. At the moment, no stars have been publicly confirmed for Sinister Six. It not even clear whether Andrew Garfield will reprise his role as Spidey.
No release date has been set for Sinister Six. Producers Avi Arad and Matt Tolmach have hinted that Sinister Six could take the May 4, 2018 date Sony already has reserved for the franchise. But if that's the case, January seems awfully early to start shooting. Maybe we'll be seeing this film sooner than we'd thought.