'They Came Together' Trailer: David Wain Takes Aim At Romcoms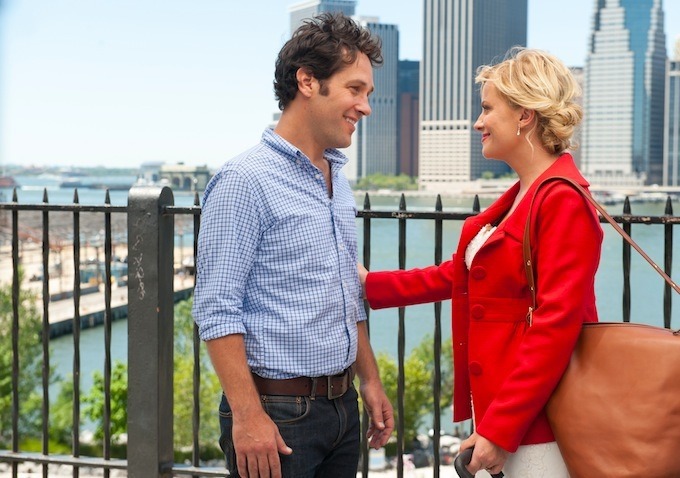 This year's most star-studded, cliche-filled romcom isn't based on a self-help book, built around a holiday, or directed by Garry Marshall. It's They Came Together by David Wain, director of Wet Hot American Summer. Which, of course, means those cliches aren't exactly being played straight.
Paul Rudd and Amy Poehler play two New Yorkers who meet cute, You've Got Mail-style. She's the owner of a small candy store; he's the corporate exec of a big chain that wants to buy her out. Despite their differences, they fall in love.
Among the people who help and hinder the couple along the way are Christopher Meloni, Ken Marino, Bill Hader, Ellie Kemper, Ed Helms, Kenan Thompson, Michael Ian Black, Melanie Lynskey, Jason Mantzoukas, Jack McBrayer, Cobie Smulders, Max Greenfield... and those are just the ones who make appearances in the trailer. Watch the They Came Together trailer after the jump.
The trailer below comes to us from Buzzfeed (via The Film Stage).
Wain's films have been hit or miss, and so far none of attracted quite the cult following of his first film,Wet Hot American Summer. They Came Together doesn't look quite as bizarre as that film, but maybe they're saving some of the crazier gags for the movie itself. As a spoof of the romantic comedy genre, it's spot-on. From far away, you could almost mistake this for a Katherine Heigl vehicle.
It's also nice to see that They Came Together has actual jokes, not just references. So many of the genre "parodies" we see seem to assume that copying other movies while upping the gross factor is enough. Yes, Friedberg and Seltzer, we're looking at you. You too, Marlon Wayans.
Reviews from Sundance have also been pretty encouraging, with several reviewers calling They Came Together one of Wain's best works to date. All in all, this definitely looks like a sweet-and-sour treat to look forward to in the middle of big-budget blockbuster season. They Came Together hits theaters and VOD on June 27.