The Gaming Characters Of 'Pixels' Attack In May 2015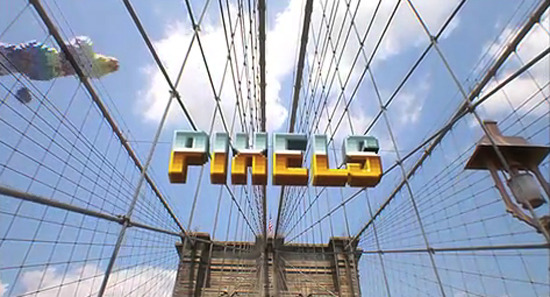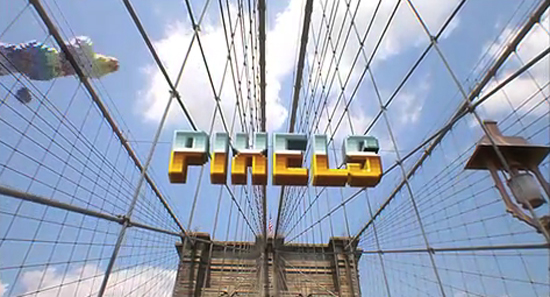 The short film Pixels, about a city attacked by classic video game characters, hit the internet in 2010. Almost immediately, a feature version of the short was put into development. That process took quite a while, but finally a cast and crew came together. Chris Columbus (Harry Potter, The Goonies, Home Alone) is directing with Adam Sandler, Michelle Monaghan, Kevin James, Josh Gad, and Peter Dinklage in the cast.
Now Pixels is set for release on May 15, 2015.
Tim Herlihy wrote the primary draft, and Tim Dowling did a rewrite on the script that is now described as "a big action-comedy tentpole in the vein of Ghostbusters" that is full of iconic video game characters and icons.
In the film, signals from a classic set of arcade games somehow end up in alien ears (or on alien screens) and are taken as declarations of war. So the aliens attack Earth, guided by those video game designs. The POTUS (Kevin James) "recruits his childhood friend (Adam Sandler), a former arcade champ-turned-home theater installer, to lead a group of gamers against the aliens."
Josh Gad will play "an awkward genius obsessed with conspiracy theories," while the most entertaining role of the film will probably be played by Peter Dinklage, as he is "a brash former rival" of Sandler's character — sounds like his character might be modeled after classic gaming champ Billy Mitchell. Michelle Monaghan will play a military weapons developer whom Sandler falls for.
Films scheduled to go up against Pixels are, at the moment, Pitch Perfect 2 and Mad Max: Fury Road. (Though I'll believe Mad Max will be released when there's actually a trailer.) [Date via THR]