'The Fault In Our Stars' Extended Trailer: Shailene Woodley's Other Big YA Movie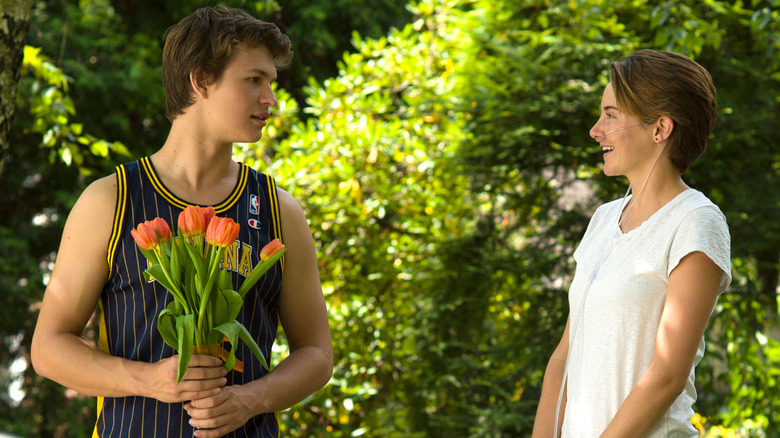 If you're not a big fan of Mondays (and who is?) then you probably think the last thing you need is an excuse to cry. And that's exactly what the new The Fault in Our Stars extended trailer is. Somehow, though, getting bummed out over this movie feels more good than bad.
Divergent co-stars Shailene Woodley and Ansel Elgort play recovering teen cancer patients who meet in a support group, and then fall in love "the way you fall asleep — slowly and then all at once." Sniff. Watch the trailer after the jump.
The new trailer actually has more humor than the last one did, what with the scenes featuring Mike Birbiglia's hilariously awkward group therapy leader and jokes about "taking pot." Weirdly, that just makes the sad stuff all the sadder.
Overall, this looks like the more interesting of the two big YA adaptations Woodley has out this year. Even if it does feel a little bit like The Spectacular Now with cancer. And while Divergent felt in many ways like a Hunger Games ripoff, The Fault in Our Stars looks like it (with some help from Chloë Grace Moretz's If I Stay) could be start of the next YA trend: Romantic tearjerkers involving life-or-death situations.
The Fault in Our Stars opens June 22. Josh Boone directed, and Nat Wolff, Laura Dern, and Sam Trammell also star.
Hazel and Gus are two extraordinary teenagers who share an acerbic wit, a disdain for the conventional, and a love that sweeps them — and us – on an unforgettable journey. Their relationship is all the more miraculous, given that they met and fell in love at a cancer support group. THE FAULT IN OUR STARS, based upon the number-one bestselling novel by John Green, explores the funny, thrilling and tragic business of being alive and in love.