'Star Wars Episode VII' News Imminent; Harrison Ford, Mark Hamill And Carrie Fisher Seen In London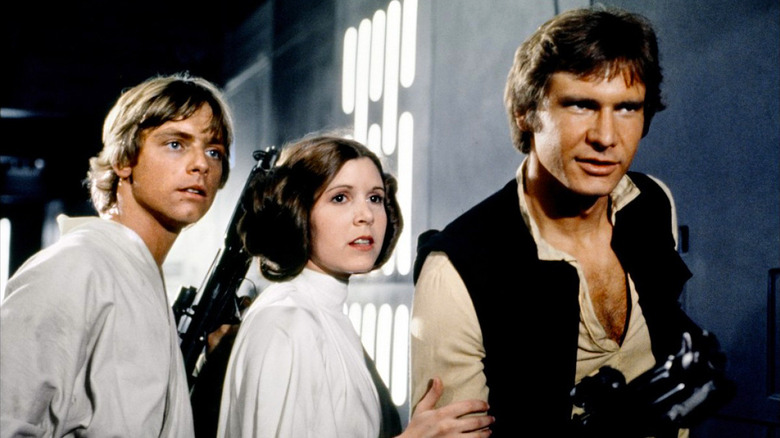 Star Wars Day, May 4, is less than a week away, and Star Wars is already turning up everywhere. The official Twitter account has been promoting the "holiday" for weeks, various retailers have been pushing new merchandise, previews of Star Wars Rebels are airing, and all evidence points to the fact Star Wars Episode VII news is coming this week.
The biggest clue is Mark Hamill, Harrison Ford and Carrie Fisher have all been spotted in London. That's where Disney Studios chairman Alan Horn visited writer/director J.J. Abrams and producer Kathleen Kennedy last week to finalize the script. London, where the film will be shooting come May. Check out the evidence of Star Wars 7 news below.
Here's the biggest, most obvious tease of Star Wars 7 news coming:
Met up with @HamillHimself in London today. I wonder why he's here. pic.twitter.com/zXpnxWaHyN

— Peter Serafinowicz (@serafinowicz) April 27, 2014
Peter Serafinowicz has a long relationship with Star Wars, having voiced Darth Maul in Star Wars Episode I: The Phantom Menace. He wouldn't have tweeted that unless he knew something.
So Hamill is there. What about Ford? Well Rex Features (via JediNews) has some images of Han Solo coming out of a London restaurant, and then there's this tweet via Star Wars 7 News:
Harrison Ford chatting to the pilots of London's Air Ambulance in Grosvenor Square https://t.co/YJqX3KscBh

— Matthew Bell (@kertappa) April 26, 2014
That's two. So what about Carrie Fisher? She took to Twitter to address rumors of her entering the country:
So my do dog Gary has been spotted in London, but apparently without me. Who has he been seeing? Let me know if you have any clues.

— Carrie Fisher (@carrieffisher) April 26, 2014
Now they're just messing with us, right?
It's not that we didn't know with about 95% certainty these three were already in the movie. Hamill has been quietly slimming down for the past few months, Fisher has let her involvement slip multiple times, and Ford was outted on the Graham Norton show in the UK. They're in the movie.
Yet, with May 4th rapidly approaching, how will Disney choose to reveal that information? And, more importantly, will that be the only information release? Some reports suggest the full cast will be announced this week with more info, like a title, held for San Diego Comic-Con. There's also the chance only these three actors will be confirmed, with any new additions held for later. And even if new actors are revealed, will we find out what characters they are playing? Will there be any kind of plot description?
So many questions, but we do have one answer. This is the week we finally get Star Wars Episode VII news.
Additional source: Entertainment Weekly