'Coherence' Teaser Trailer And Clip: Reality Bends On One Strange Night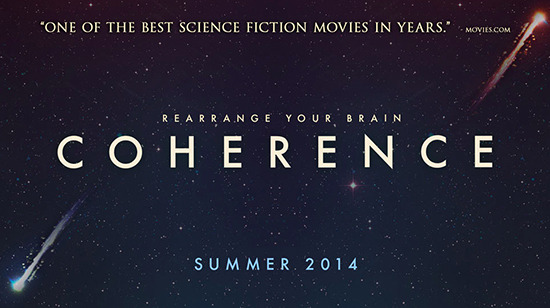 One of the most buzzed-about films at Fantastic Fest last year was the low-fi science fiction story Coherence. Written and directed by James Ward Byrkit, the film is partially improvised, and tells of the "reality-bending" effect an an astrological anomaly has over the course of one night. The film stars Emily Baldoni, Maury Sterling, Nicholas Brendon, Elizabeth Gracen, Alex Manugian, Lauren Maher, Hugo Armstrong and Lorene Scafaria. Check out the strange Coherence teaser trailer below.
Here's the trailer, via Apple.
Since that teaser doesn't give too much information, here's a clip, from Badass Digest:
Coherence opens in theaters and on VOD on June 13, from Oscilloscope Laboratories.
On the night of an astrological anomaly, eight friends at a dinner party experience a troubling chain of reality bending events. Part cerebral sci-fi and part relationship drama, COHERENCE is a tightly focused, intimately shot film that quickly ratchets up with tension and mystery.