Star Wars Bits: 'A New Dawn' Revealed, Plus May 4 Disney Store Exclusives, Star Wars Weekends And Comic-Con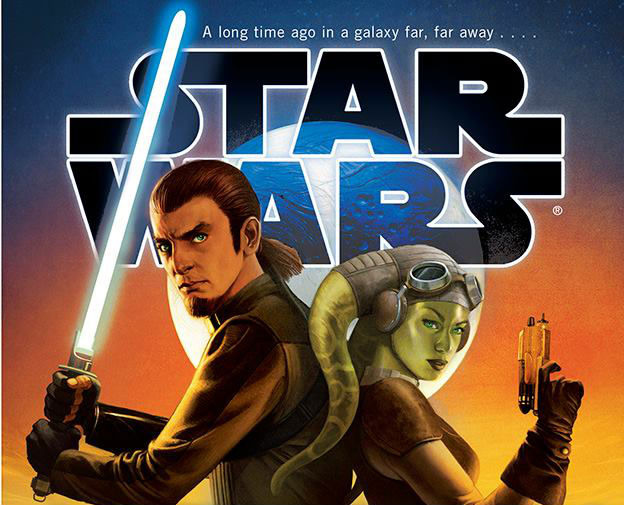 Today's biggest Star Wars news has to do with the Expanded Universe and perhaps the Boba Fett film. But that's far from all that's going on. In this edition of Star Wars Bits, read about the following:
...as well as the rest of the first wave of canon books like Star Wars: Tarkin.
Disney Stores are getting new Star Wars merchandise on May 4.
Check out some images from Star Wars Storyboards: The Original Trilogy.
Star Wars: The New Yoda Chronicles premieres May 4 along with a new Rebels tease.
The full line up of Star Wars celebrities attending Star Wars Weekends has been revealed.
Will we get the Star Wars Episode VII title at San Diego Comic-Con? Will it be there at all?
Check out photos from the Lucasfilm offices at Walt Disney Studios.
It's all happening. May 4, Disney's acquisition of Star Wars takes a new leap forward into retail with the reveal of exclusive merchandise in their popular Disney Stores. The official site has all the info, but Inside the Magic has some great photos and a video. Here are just a few examples.
Star Wars: A New Dawn was a title rumored for Star Wars Episode VII. Now, it has officially been revealed as a new, in-canon book from Del Ray.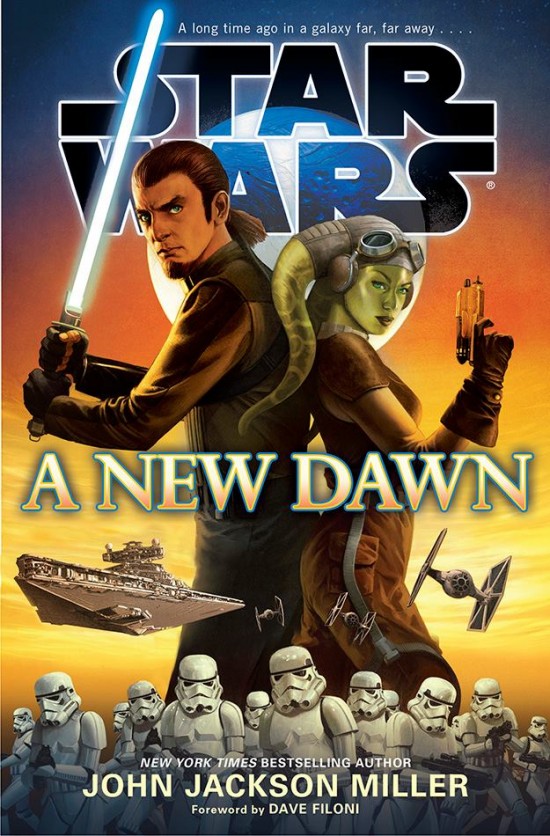 Here's the official description:
Our very first official canon novel set solidly in the legendary "Dark Times" between Episodes III and IV, A NEW DAWN will introduce readers to two main characters from the upcoming Star Wars: Rebels animated series—Kanan Jarrus and Hera Syndulla—and will feature jacket art by Doug Wheatley, as well as a foreword by Dave Filoni, one of the executive producers of The Clone Wars and Star Wars: Rebels. It goes on sale September 2, 2014.
Star Wars.com has info on more in canon books, all from Del Ray.  There's STAR WARS: TARKIN by James Luceno, out 11/4/14, STAR WARS: HEIR TO THE JEDI by Kevin Hearne, out January 2015 and STAR WARS: LORDS OF THE SITH by Paul Kemp, out March 2015. Here are all the covers:
Vulture has an exclusive look at images from a new book called Star Wars Storyboards: The Original Trilogy. All the images show early, different designs of classic characters like C-3PO, Yoda, Luke Skywalker and others. This is just one example from their slideshow.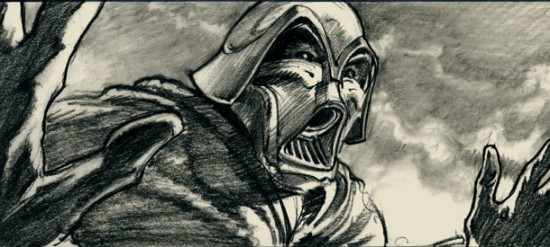 Making Star Wars reports Star Wars: The New Yoda Chronicles will makes its premiere on Disney Channel May 4 in the morning. It'll include a new preview for Star Wars Rebels. Here's a little tease.
The official Disney Parks blog has revealed the full line up of Star Wars celebrities attending Walt Disney World's Star Wars Weekends this summer. Mark Hamill, Billy Dee Williams, Jeremy Bulloch, it's a great line up. Head to this link to see the full schedule and line up. Plus, there's also a "Feed the Force" dining experience happening at the event.
Fellow film journalist Kyle Buchanan reports while Lucasfilm will announce the cast of Star Wars Episode VII very soon (May 4th?) they'll hold the title reveal for an event such as San Diego Comic-Con.
But, will Star Wars be at Comic-Con at all? The Unofficial Comic Con blog weights the possibilities in this fun post.
And finally, Inside the Magic got a tour of the Walt Disney Studios in Burbank, CA and ran some photos of the Lucasfilm offices there. Very cool, insider stuff.