'Sex Tape' Trailer: Cameron Diaz And Jason Segel Do "The Full 'Lincoln'"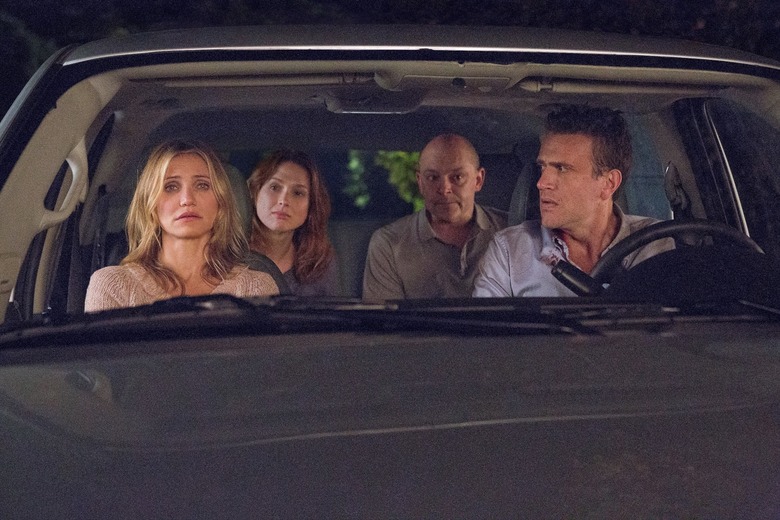 In Sex Tape, Cameron Diaz and Jason Segel play a couple desperately trying to keep their racy video from being seen by anyone. But Sony, of course, wants just the opposite for the film itself. So the studio has put out a new Sex Tape green-band trailer, all the better to appeal to those who couldn't see that last red-band trailer.
The new edit swaps out some of the sex scenes and F-bombs, replacing them with tamer bits of new footage. It retains the same general structure and ribald sense of humor, though. Watch it after the jump.  
Sex Tape isn't a Bad Teacher sequel, but it is a Bad Teacher reunion. Not only does it feature Diaz and Segel together again, it was also directed by Bad Teacher's Jake Kasdan. Hopefully this film proves better than that one, which fell flat as a whole despite some really funny moments.
Sex Tape opens July 25. Rob Corddry, Ellie Kemper, and Rob Lowe also star.
When Jay (Jason Segel) and Annie (Cameron Diaz) first got together, their romantic connection was intense – but ten years and two kids later, the flame of their love needs a spark. To kick things up a notch, they decide – why not? – to make a video of themselves trying out every position in The Joy of Sex in one marathon three-hour session. It seems like a great idea – until they discover that their most private video is no longer private. With their reputations on the line, they know they're just one click away from being laid bare to the world... but as their race to reclaim their video leads to a night they'll never forget, they'll find that their video will expose even more than they bargained for.