Rumor: Jessica Chastain Wanted For 'Mission: Impossible 5'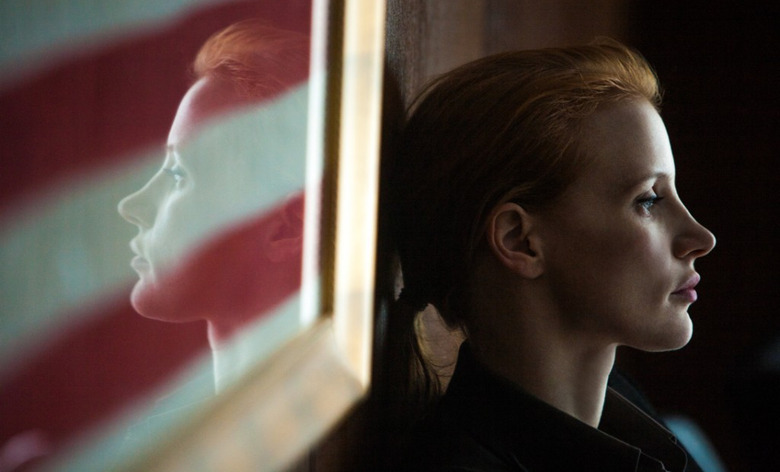 That Tom Cruise will return for Mission: Impossible 5 is a given. There's probably a decent chance Paula Patton, Simon Pegg, and Jeremy Renner will return as well. But every installment needs some fresh blood, and according to a new rumor Jessica Chastain could be the one to fill that role.
The two-time Oscar nominee is allegedly being courted for the female lead role in Mission: Impossible 5. Hit the jump for more about her possible character.
There's also the matter of making the scheduling work. Chastain is currently finishing up Guillermo del Toro's Crimson Peak, and has at least three other films lined up beyond that including Andrew Dominik's Marilyn Monroe biopic Blonde.
We're not quite sure when Mission: Impossible 5 will shoot, but with a December 25, 2015 release date already set, it seems likely to get going before the end of the year.
According to their sources, Chastain is wanted to play the "right-hand woman" to Ethan Hunt (Cruise). It's unclear whether that means she'll be the love interest, a fellow agent, or both. The versatile actress has proven that she can do sweet and ditzy or sharp and tough and everything in between, so we imagine she'll be a good fit for just about anything.
Interestingly, this isn't the first time Chastain has been linked to a film with Cruise. She was attached to Joseph Kosinski's Oblivion back when it was still called Horizons, but had to drop out to do Zero Dark Thirty instead.
In the meantime, Chastain can be seen later this year in Eleanor Rigby, A Most Violent Year, and Interstellar.