WTF: Peeps Movie In Development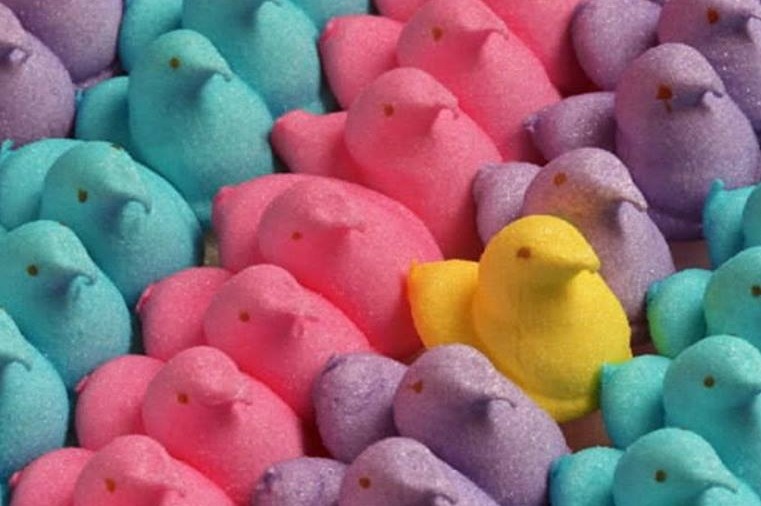 Just when you think you've heard it all, someone decides to make a Peeps movie. Yes, that's Peeps as in those sugary marshmallow confections that crop up in drugstores everywhere around Easter.
The specific "someone" in this case is Adam Rifkin, director of Detroit Rock City, who has just optioned the film and TV rights to the candies. There's no word yet on what the small-screen plans are, but the film is described as an animated "Lego Movie-esque family epic." Hit the jump to learn more about Peeps' journey to the screen.
The basic premise, though, has already been revealed. The film will take place the night before a Peeps diorama contest. A single Peep gets misplaced and must make his way through other fantastical dioramas to get back home before the contest judging begins. (Will one involved Peep jousting?)
According to Deadline, Rifkin came up with the idea after seeing his own niece and nephew build Peeps dioramas for a school project. His curiosity led him to the world of Peeps diorama contests, like the one hosted annually by the Washington Post.
Honestly, that's not the worst idea ever. Both Wreck-It Ralph and The Lego Movie had great success with similar setups. I'm just having a bit of trouble getting over the fact that candy-based movies are now a thing. I'd only just gotten used to the idea of films based on board games and theme park rides.
Just Born has been making Peeps candies since the 1950s, when they acquired the Rodda Candy Company and its line of marshmallow chicks. The line has since expanded into different shapes, colors, and flavors. More recently, it's also branched out into Peeps-themed merchandising, like branded lip balm, nail polish, and pillows. Just Born sells $2 billion of the candies each year.
Rifkin has plenty of experience with family-friendly adventures, having penned Mousehunt, Small Soldiers, Underdog, and Zoom. His credits as a director tend to be less kid-oriented, including Detroit Rock City, and National Lampoon's Homo Erectus. He most recently completed the feature Reality Show and is preparing to shoot the Penn Jillette-scripted Director's Cut.