'The Love Punch' Trailer: Pierce Brosnan, Wannabe Jewel Thief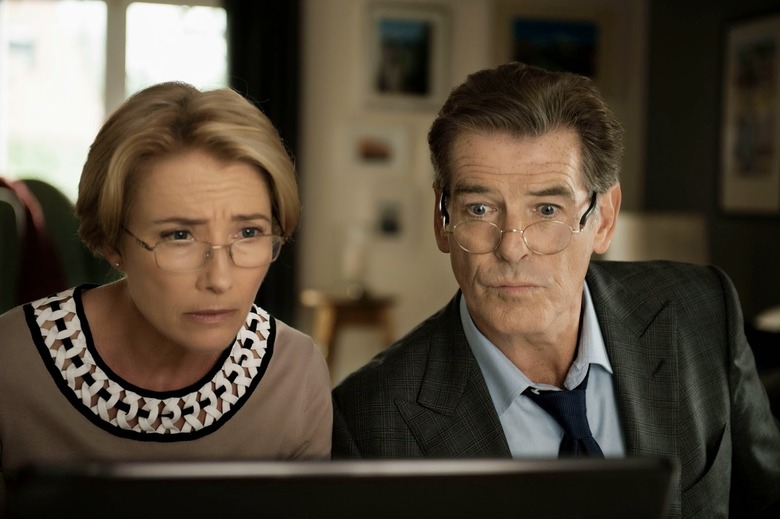 Pierce Brosnan hasn't played James Bond in years, but his days of daring aren't totally behind him. In the new The Love Punch trailer, he plans to steal a $10 million diamond after a shady French financier makes off with his pension fund.
The difference is that this Pierce Brosnan is not a badass spy, but an ordinary businessman with three equally ill-equipped co-conspirators: his snarky ex-wife Kate (Emma Thompson) and two bumbling neighbors (Timothy Spall and Celia Imrie). Naturally, sparks fly and hilarity ensues. Watch the Love Punch trailer after the jump.
Real talk: This looks terrible. Realer talk: This looks like exactly the kind of terrible that I'm going to enjoy on a random Saturday morning when I'm curled up on my couch trying to recover from a hangover. Brosnan and Thompson have charm to spare, and the plot looks entertainingly silly. 
The Love Punch is already open in the U.K. and gets a limited release in the U.S. starting May 23.
Spanning locations in Paris, London and the French Riviera THE LOVE PUNCH brings together Pierce Brosnan (Mamma Mia) and Academy-Award winner Emma Thompson (Saving Mr Banks) for the first time, as ex-husband and wife Richard and Kate whose biting banter suggests that the flames of their former relationship have not been fully extinguished... Unfortunately the same cannot be said for their retirement nest egg which is wiped out when Richard's investment firm is defrauded and the pension fund is siphoned away.
Learning that the unscrupulous French financier behind the scheme has just purchased a $10 million diamond for his bride to be, the divorced duo grudgingly agree to set aside their differences, and hatch a plot to gate-crash the wedding and steal the rock.
Roped in to assist in the heist are the couple's former neighbours Timothy Spall (The King's Speech) and Celia Imrie (The Best Exotic Marigold Hotel) who are also rooting for their reconciliation. The foursome form an unlikely band of lawbreakers in this classic comedy caper set against the sun drenched backdrop of the Cote d'Azur.