Disney "Struggling" With 'Captain America 3' Release Date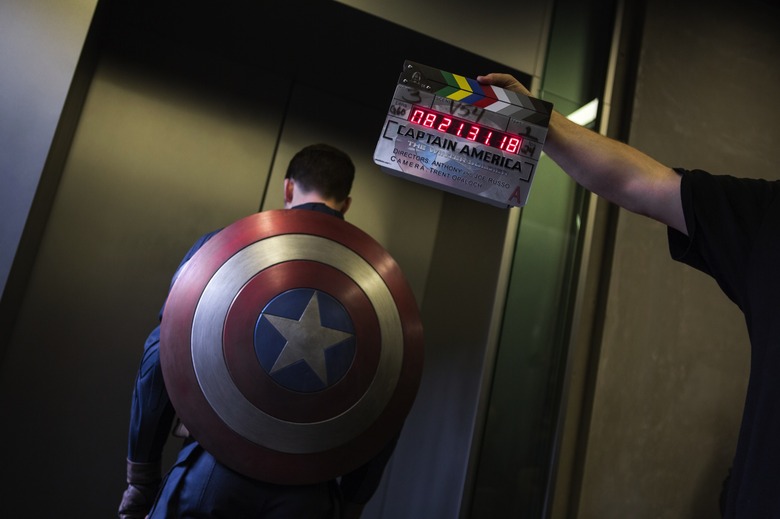 By now you've probably read a bit about plans for May 6, 2016. Marvel Studios first claimed the release date for an unspecified film, only to be challenged when Warner Bros. moved Batman vs. Superman to the same date. Kevin Feige said Marvel wouldn't budge and officially named Captain America 3 as the film opening that day. The head of Warner Bros. then stood firm on the date and the company placed another movie in the classic DC late-July slot.
But no one in a million years thinks both Captain America 3 and Batman vs. Superman will open on the same date. Now, the chairman of Disney Studios said the company is "struggling" with the Captain America 3 release date.
The quote came from a new interview with Disney Studios chairman Alan Horn, as recounted by Variety reporter Brent Lang.
"We'll see. We're struggling with it" Alan Horn on #CaptainAmerica3 debuting against #BatmanvsSuperman

— Brent Lang (@BrentALang) April 22, 2014
Who could blame him? After the huge (and continuing) success of Captain America: The Winter Soldier, Captain America 3 is a huge film for Marvel and Disney. It'll be the first post Avengers: Age of Ultron film featuring a member of the team and the early May release is where Iron Man 3 had unprecedented success. But Batman vs. Superman combines two of the biggest superheroes in the world and will almost definitely win in a head to head showdown.
The key here is public perception. If one company moves, they might be viewed as "weak" or the "loser." I totally disagree with that. We know one of the films is going to move. They have to. They'd cannibalize each other's audience way too much. What many forget is 95% of the people who'll see these movies don't even know they're coming out yet. They don't care about release dates. So if Batman vs. Superman moved or whatever, it would be a big deal for two days, on the Internet, two years away from release, and then forgotten. One or two might care now, but no one will care when it matters on May 6, 2016.
On the other hand, by continuing to "struggle" now, it keeps two films which haven't started filming yet in the spotlight. That's never a bad thing.