Disney Studios Chairman Offers 'Star Wars Episode VII' Updates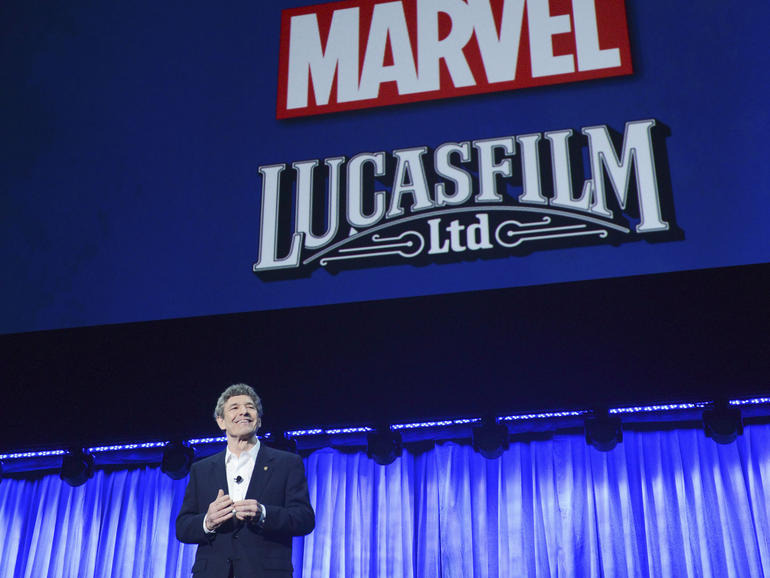 UPDATE: Now with video.
Someone gets to fly to London this week and talk to J.J. Abrams about Star Wars Episode VII. Unfortunately, it's not someone you know. It's Alan Horn, the chairman of Walt Disney Studios. Horn offered that piece of news, as well as a few others, in a new interview.
The chairman also said the future films aren't necessarily beholden to December release dates, and could come out in May. He confirmed there was filming in Abu Dhabi last week and casting is very close to complete. Then, he said George Lucas remains a consultant, a fact we'd heard at the beginning but hadn't really talked about much since. Read more about these Star Wars 7 updates below.
The updates came from Variety reporter Brent Lang on Twitter. Here are the tweets, with some commentary:
Alan Horn going to London this week to go over Star Wars 7 script with JJ Abrams

— Brent Lang (@BrentALang) April 22, 2014
Horn has previously said the script is ready, this is likely just some kind of double check to make sure the creative team and executive team are on the same page before first unit cameras role.
Alan Horn says #StarWars7 second unit shooting happened in Abu Dhabi, casting almost done

— Brent Lang (@BrentALang) April 22, 2014
You surely saw the set photos that leaked last week from Abu Dhabi and while this isn't confirmation, it's pretty close. As for the casting, it's pretty odd that it wouldn't be done with mere weeks to go before shooting. But maybe they just haven't put ink to paper yet.
Disney Studios chief says #StarWats movies may revert to May release dates from Dec debuts. Depends on screenplay readiness.

— Brent Lang (@BrentALang) April 22, 2014
No one ever confirmed this, but the reason Star Wars Episode VII is opening in December 2015 instead of May 2015 is because J.J. Abrams and team wanted more time with the script. Everyone on the project is so beholden to keeping Star Wars traditions, they surely looked at May as the ideal release date so this news from Horn makes sense. The bigger question this raises, though, is when will we get a second Star Wars movie? May 2016? 2017?
George Lucas is a consultant on #StarWars7, Alan Horn says

— Brent Lang (@BrentALang) April 22, 2014
Lucas gave his outlines for Star Wars Episode VII back in 2012 when Disney bought Lucasfilm and since then, he's been considered a consultant. That means this isn't exactly news, but, the fact it was mentioned could suggest he took a bigger role as we come down the home stretch.
Alan Horn on co-financing: I'm so happy we don't have partners on these films

— Brent Lang (@BrentALang) April 22, 2014
This statement might not only refer to Star Wars, it could also be Pixar and Marvel too. And while we haven't seen returns on a Disney Star Wars movie yet, it's a safe bet not sharing the risk with another company will likely pay off huge.
What do you think about these Star Wars 7 updates from Alan Horn?
UPDATE: Here's a video of part of the conversation via Bloomberg: