New 'The Equalizer' Images Show A Calm, Deadly Denzel Washington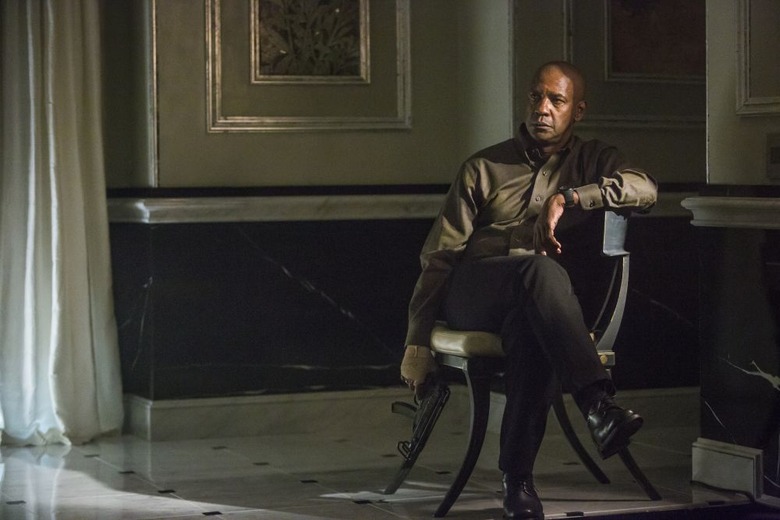 Antoine Fuqua directed Denzel Washington in The Equalizer last year, but Sony has been slow to roll out any footage. Now we've got an official poster and a set of images, along with what appears to have been a pretty good "viral" marketing gag that was placed in the New York Times over the weekend. The film updates the '80s TV show, with Denzel as a former special ops guy who "donates" his skills to those in need. Check out the new Equalizer images below.
The best bit is this image, which calls back to the show, in which Edward Woodward played a guy who would work pro bono for those with a problem they couldn't solve themselves. We're still trying to find out if this was a legit marketing thing, or just a coincidental ad placement by someone who thought it would be funny. Regardless, it works.
A nice bit of viral marketing on this Sunday's @nytimes: pic.twitter.com/LUT2sZzIsT

— Gary Whitta (@garywhitta) April 21, 2014
Here's the poster, via Yahoo, which augurs a trailer release this week:
And a set of images, via USA Today. Speaking to the paper, Washington explained the appeal of the role:
The title doesn't mean anything to me. It's the material. It's a classic story, the innocent girl and the guy coming in to save the day and kick some butt. You'll get some popcorn and escape for a couple of hours.
And Fuqua has something to say about Denzel's take on the character, especially as the guy comes to the aid of a girl in trouble, played by Chloe Grace Moretz.
There's a switch that he turns on and that's just scary. There's a sustained intensity even in casual mode, like a panther. If it's turned against you, you're going to be in a bad place.
The Equalizer opens on September 26. We'll have a trailer for you soon.