Exclusive: Nicholas Stoller Could Direct Seth Rogen/Kevin Hart Buddy Comedy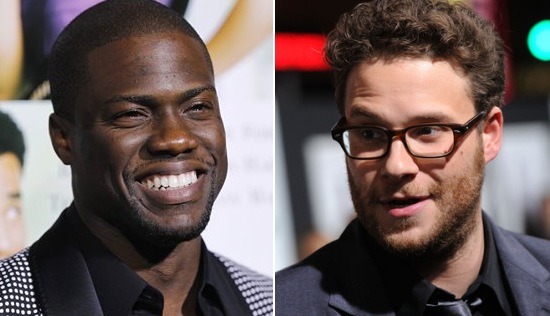 There's been nothing but good buzz, and rightfully so, for Nicholas Stoller's Neighbors. The May 9 release starring Seth Rogen and Zac Efron is likely to be one of the biggest comedies of the summer. Coming off that, Stoller has a bunch of projects in the works. He's producing and writing the animated films Captain Underpants and Storks. In a new interview, the director revealed his next gig with most likely be a buddy cop comedy with Rogen and Kevin Hart about the first interracial cop pairing in history.
Here's what Stoller said about the film:
The next thing I want to direct is this thing for Seth [Rogen] and Kevin Hart. It's basically about the first white cop black cop pairing in history. That takes place in the late '40s and they have to bust jazz musicians for weed. It's kind of a Baz Luhrman world mixed with Tarantino shit. It's a lot of things.
The untitled pitch was picked up by Paramount a few years ago. It's written by former Late Show with David Letterman head writer Rodney Rothman, who produced The Five-Year Engagement, Forgetting Sarah Marshall and Get Him To the Greek, all of which Stoller directed. So the pairing makes sense.
Rogen and Hart are two of the biggest draws in comedy these days and their team up as leads (they also appeared together in The 40-Year Old Virgin) screams "success." Stoller, if he does end up doing this, only helps raise anticipation. The topic too just seems ripe for parody and visual madness.
What do you think about Stoller teaming up with Rogen and Hart?