Zack Snyder Talks 'Batman Vs. Superman' Costumes, Marvel Rivalry, /Film, And Adding Batman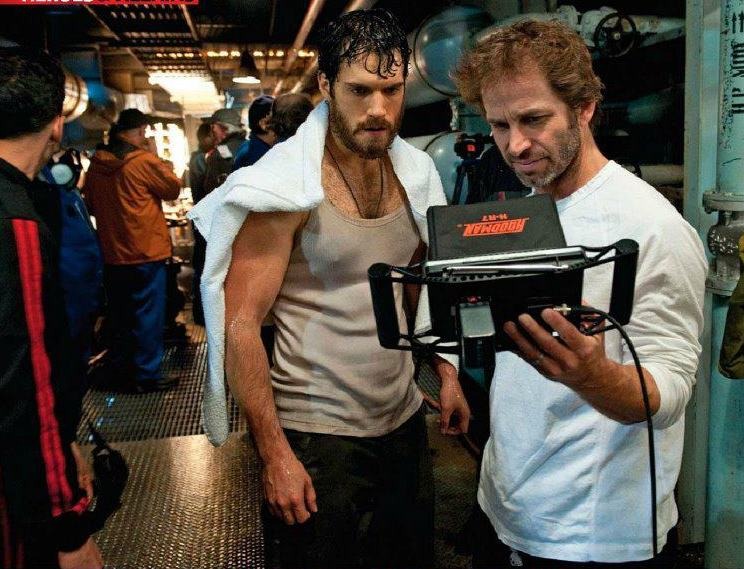 Directing a massive superhero film has lots of privileges. Money? Sure. Fame? Of course. But also the ability to geek out and see things before anyone else in the world. In a new interview, Zack Snyder – the director of Man of Steel and 2016's Batman vs. Superman – admits he doesn't know when fans will get to see the new Superman, Batman and Wonder Woman costumes. But he has a huge of them photo up in his office, geeks out over it daily, and really wants to upload it. He just knows he can't.
He also talks about the first moment Batman was mentioned as a possible foil for Superman in the sequel, what it will be like when they finally show down, the "rivalry" with Marvel Studios and, oddly, Slashfilm. Read the quotes below.
The full interview, which covers a myriad of topics in Snyder's career and is well-worth reading, comes from Forbes.
Here's his discussion of the Batman vs Superman costumes:
The thing also that's really fascinating for me is that, even just in the tests we've been doing, the costumes, right? You basically have Batman and Superman — and this is without Ben [Affleck] and Henry [Cavill] in the costumes, but just like the stand-ins, just testing to see what the costumes look like. And  you have them standing there and they're standing in the same shot — and then we have Wonder Woman, you know, all three of them in the same shot. Even just for a test, you really have to go, "Wow, that's crazy!" Not only is it the first time that I'm seeing them, it's the first time they've ever existed together on screen in a movie. And that's kind of a huge deal. Even just Batman and Superman standing next to each other... [I]t's kind of epic. You do sort of sense the weight of the pop culture iconography jumping out of its skin when you're standing there looking at the two of them and Wonder Woman. It's crazy. But it's fun. I mean, I have the first photo, I've got it in my archive because I was like, "Okay, I better keep this, it's gonna be worth something," [laughs]
The reporter then asked when we might see them:
Unfortunately, I don't even know the timeline... Because the movie takes place so far from now, it's hard to know exactly. That all gets tied to marketing and strategies for the movie. It's not just a free-for-all, which I'd love it to be. Because I take a picture of the suit with my camera– I'm actually staring at one right now in my office. And it's just massive on my wall in my office and it's epic, let me tell you! And I'm like, "God, I want to send this to the Internet immediately." But I know I'm not allowed to [laughs]! I do value the sort of excitement of the way the film is [revealed]... the pieces that are released and sort of trickle out to everybody, and those reveals are exciting milestones for us.
Snyder then said, unlike what happened on Man of Steel, they've worked out a schedule that it shouldn't be too hard to hide the costumes once filming begins:
The one nice thing is that, the schedule is designed carefully so that I don't know that [paparazzi photos] will be [a problem]– but who knows, these cats are pretty good at getting the drop on us with these photos. But, when we finally do show it, it's gonna be real fun. And it's true, you gotta make sure– you're gonna want the real shot.
Earlier, he told Forbes about the moment the idea came up to put Batman in the film:
After Man of Steel finished and we started talking about what would be in the next movie, I started subtly mentioning that it would be cool if he faced Batman. In the first meeting, it was like, "Maybe Batman?" Maybe at the end of the second movie, some Kryptonite gets delivered to Bruce Wayne's house or something. Like in a cryptic way, that's the first time we see him. But then, once you say it out loud, right? You're in a story meeting talking about, like, who should [Superman] fight if he fought this giant alien threat Zod who was basically his equal physically, from his planet, fighting on our turf...  You know, who to fight next? The problem is, once you say it out loud, then it's kind of hard to go back, right? Once you say, "What about Batman?" then you realize, "Okay, that's a cool idea. What else?" I mean, what do you say after that? ...But I'm not gonna say at all that when I took the job to do Man of Steel that I did it in a subversive way to get to Batman. I really believe that only after contemplating who could face [Superman] did Batman come into the picture.
He then talked about how each character represents something in ourselves as humans, and that will be at the heart of their clash in the movie:
I think that's what Watchmen is a perfect example of, this comic book that tells us who we are. It actually tells us about our century, and about the nuclear age, and politics, and the balance between obliterating ourselves and going into the future, and what is justice, and what is the difference between right and wrong in the world– all the things are in the comic, and in the movie. And I think that Batman and Superman also in a weird way occupy similar space, that they are the most powerful, iconographic superhero figures, and they occupy a place in all of our collective consciousness. Almost every person in the world at one time or another has said, "I'm Batman!" I believe that that's a powerful thing. And he absolutely can tell us about ourselves.As we've been writing the script and talking about what to do with these characters, how they face off and why and what it means, you know, we've really tried to think about it in a real– I guess in a way that talks about who we are as well.
Not a direct reference to the release date controversy, but Snyder doesn't see any rivalry with Marvel Studios:
Look, I'm a fan of the Marvel movies... and the thing that's awesome is, we make a different movie. We have a different product than them, although they both exist in sort of the superhero world, which is great. I think that those are the opportunities. That's what you get at the movies, you get a chance to go to all these different worlds. And I'm as interested in going to the Marvel Universe as anybody. So, I personally don't think that there's any, from my point of view, we definitely don't have any animosity or anything of that nature. We're all in this big business together, and we hope people are interested in the adventures that we put up on screen. And I do believe it's infectious, and the next weekend you're like, "You know what? Let's go do that again, that was awesome. We saw a cool movie, maybe we'll get another cool movie."
And just a fun thing, in a discussion of Sucker Punch, Snyder references Adam Quigley's video on the film. Which is pretty awesome.
Snyder sounds like a proper geek here, with a real understanding of the importance of what he's doing. Do you agree?
Thanks again to Forbes for the great interview.