'Amazing Spider-Man 2' Features 'X-Men: Days Of Future Past' After-Credits Clip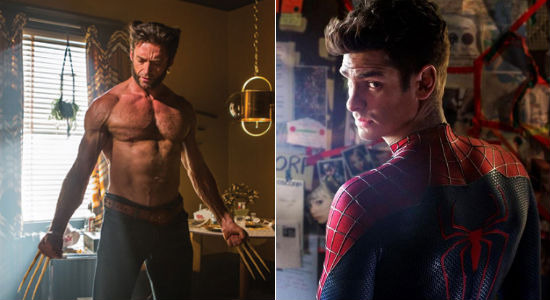 UPDATE: The coda will be in U.S. theaters as well. The story has been updated to incorporate this change.
UPDATE 2: Variety has details of the behind the scenes deal that made this happen. It is the very opposite of a far-reaching plan for a super-hero crossover. Read that info below.
The Amazing Spider-Man 2 is distributed by Sony. X-Men: Days of Future Past is distributed by 20th Century Fox. Under normal circumstances, that means the two films would never cross over or help each other in any way. With Amazing Spider-Man 2 opening in the UK today, however, things are a bit different. Spidey reportedly features no post-credits tease, but apparently the credits conclude with an unrelated action scene from the rival studio's X-Men: Days of Future Past. It'll do the same when it opens in the U.S. May 2.
Empire broke this odd news of cross-promotion. The X-Men tease does not tie in with the Spider-Man universe. Instead, it's almost like a post film trailer for fans who sit all the way through the credits. Originally it was thought this would just happen in the U.K. but Sony confirmed to us it'll happen in the U.S. too.
Here's how Empire describes the scene in question:
The scene featured sees Jennifer Lawrence's Mystique, Lucas Till's Havok and Evan Jonigkeit's Toad taking on William Stryker (Josh Helman) and his military men. Without wishing to spoil anything, let's just say that Mystique once again demonstrates her formidable fighting skills in the brief segment.
Rival companies have teamed up in the past to promote upcoming blockbusters. When Paramount released Mission: Impossible Ghost Protocol in 2011, they allowed Warner Bros. to put the prologue for The Dark Knight Rises in front of IMAX prints of the film. Something like that was mutually beneficial, and presumably this would be, too. Fans will sit through Amazing Spider-Man 2 for a Marvel post-credits scene and will instead get a defacto X-Men: Days of Future Past trailer. They've already paid for one, and now they might pay for the other.
For educated fans who know different studios own the rights to each set of popular characters, most will probably realize this is strictly a marketing thing. Fans who know less about the business side of things, however, will surely assume X-Men and Spider-Man are going to team up. With this assuredly not happening, the question is whether any audience confusion/disappointment will be worth it.
Update: You may recall that there was a point where Marc Webb's ability to direct more Spider-Man movies was in doubt thanks to a prior deal he had signed with Fox Searchlight. Variety reports that negotiations linked to that deal are precisely the reason for this marketing crossover. Specifically:
Marc Webb had an existing contract with Fox Searchlight to helm another film following 2009?s "500 (Days) of Summer." After "The Amazing Spider-Man" in 2012, Webb's negotiations briefly stalled with Sony as he was caught in a tug-of-war with Fox. Eventually, Fox agreed to allow Webb to direct Sony's "Spider-Man" sequel, but only if Sony would promote its "X-Men" film for free.