'If I Stay' Trailer: Chloë Grace Moretz Will Make You Cry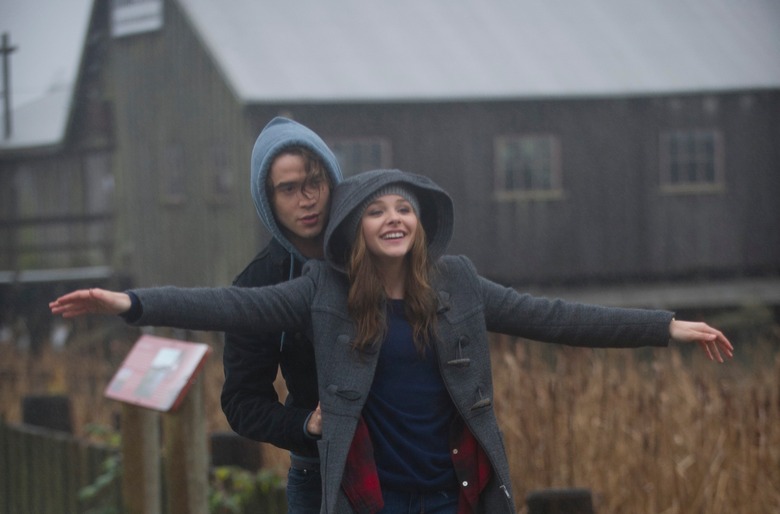 Chloë Grace Moretz is no stranger to (onscreen) life-or-death situations. She's played a superhero, a vampire, and a telekinetic outsider with a furious grudge. But she's never been in one quite like this.
Directed by R.J. Cutler (The September Issue) and based on the novel by Gayle Forman, If I Stay stars Moretz as a bright, talented teen who falls into a coma after a car accident kills the rest of her family. She's faced with a choice — wake up an orphan and get about the hard work of moving on, or let go and die with her loved ones. Jamie Blackley plays her punk rock boyfriend, who may just give her something to live for.
Watch the first If I Stay trailer after the jump.
MTV premiered the trailer on YouTube.
For the past few years, the big trend in YA has been dystopian thrillers. Before that, it was paranormal romances, and before that, it was fantasy adventures. But between If I Stay and this June's The Fault in Our Stars, the next one could be romantic tearjerkers.
If I Stay has the kind of premise that could go real cheesy real quick, but the first trailer is pretty effective. (By which I mean, yes, it got me all misty-eyed.) If nothing else, it should be interesting to see Moretz in this role. She's second to none when it comes to playing tough young women, but here she's more openly vulnerable than usual.If I Stay opens August 22.
Mia Hall (Chloë Grace Moretz) thought the hardest decision she would ever face would be whether to pursue her musical dreams at Juilliard or follow a different path to be with the love of her life, Adam (Jamie Blackley). But what should have been a carefree family drive changes everything in an instant, and now her own life hangs in the balance. Caught between life and death for one revealing day, Mia has only one decision left, which will not only decide her future but her ultimate fate. "If I Stay" is based on the best-selling novel of the same name.