'Third Person' Trailer: More Intersecting Tales From The Director Of 'Crash'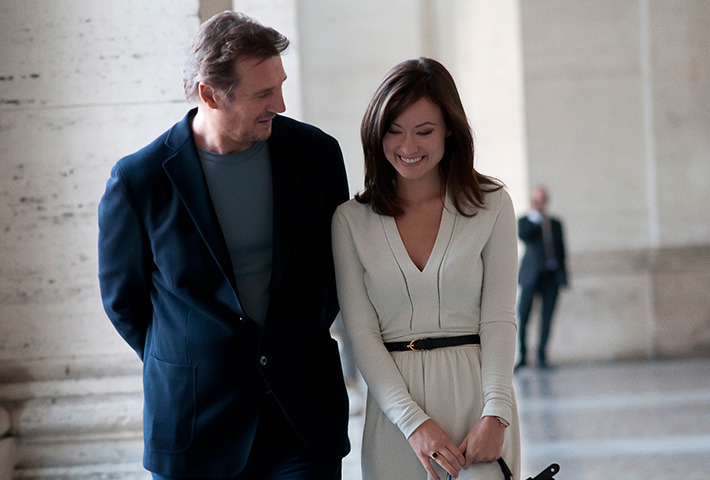 If Valentine's Day (or Love Actually, or New Year's Eve, or He's Just Not That Into You) were reimagined as a brooding drama instead of a fluffy comedy, it might look kind of like Paul Haggis' Third Person. The drama follows three intersecting tales, each featuring a couple at a crossroads.
In Paris, a recently separated novelist (Liam Neeson) and a clever journalist (Olivia Wilde) are engaging in an affair. Over in Rome, an American businessman (Adrien Brody) is maybe being duped by a beautiful local (Moran Atias). And across the Atlantic, two exes (Mila Kunis and James Franco, giving us the Oz the Great and Powerful reunion we didn't ask for) are battling over parental custody in New York City.
The first Third Person trailer has just hit the web, and you can check it out after the jump.
Reviews for Third Person were not terribly kind at TIFF. The Playlist gave it an F, The Guardian awarded it one star out of four, and JoBlo rated it a 1/10. Even the more measured responses were far from glowing. THR noted that the starry cast "doesn't disappoint," but ultimately found the tales "uninvolving" and not "particularly believable."
Nevertheless, Sony Pictures Classics scooped up the picture for U.S. distribution and has Third Person scheduled to open sometime later this year. Here's the synopsis:
MICHAEL (Liam Neeson) is a Pulitzer Prize-winning fiction author who has holed himself up in a hotel suite in Paris to finish his latest book. He recently left his wife, ELAINE (Kim Basinger), and is having a tempestuous affair with ANNA (Olivia Wilde), an ambitious young journalist who wants to write and publish fiction.
At the same time, SCOTT (Adrien Brody), a shady American businessman, is in Italy to steal designs from fashion houses. Hating everything Italian, Scott wanders into the "Café Americano" in search of something familiar to eat. There, he meets MONIKA (Moran Atias), a beautiful Roma woman, who is about to be reunited with her young daughter. When the money she has saved to pay her daughter's smuggler is stolen, Scott feels compelled to help. They take off together for a dangerous town in Southern Italy, where Scott starts to suspect that he is the patsy in an elaborate con game.
JULIA (Mila Kunis), an ex-soap opera actress, is caught in a custody battle for her 6 year-old son with her ex-husband RICK (James Franco), a famous New York artist. With her support cut off and her legal costs ruinous, Julia is reduced to working as a maid in the same upscale boutique hotel where she was once a frequent guest. Julia's lawyer THERESA (Maria Bello) has secured Julia one final chance to change the court's mind and be reunited with the child she loves. Rick's current girlfriend SAM (Loan Chabanol) is a compassionate onlooker.
THIRD PERSON tells three stories of love, passion, trust and betrayal, in a multi-strand story line reminiscent of Paul Haggis's earlier Oscar-winning film Crash. The tales play out in New York, Paris and Rome: three couples who appear to have nothing related but share deep commonalities: lovers and estranged spouses, children lost and found.
As Writer/Director Haggis puts it: "In any relationship there is always a third person; perhaps not romantically, perhaps not even consciously, but present in some form." At its heart, THIRD PERSON is much more than a collection of love stories—it is a mystery, a puzzle in which truth is revealed in glimpses, and clues are caught by the corner of the eye—and nothing is truly what it seems.