Ghostbusters 30th Anniversary Art Show: More Art And Details Revealed [UPDATED]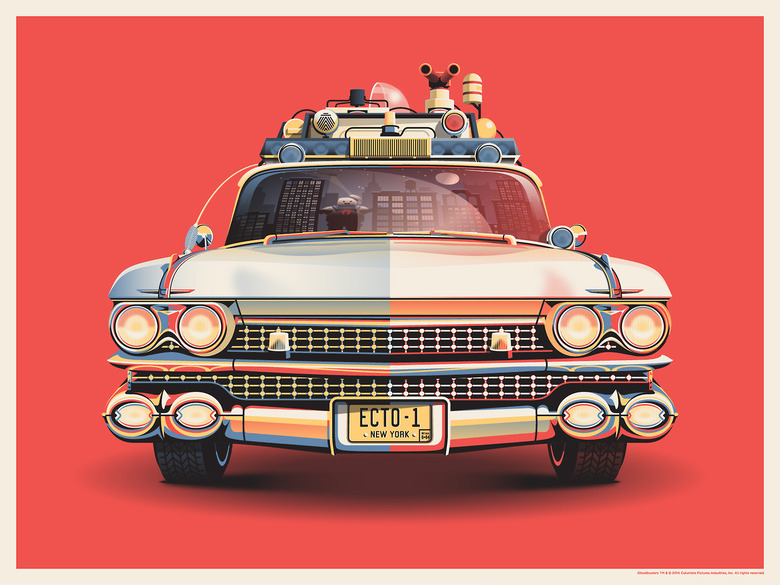 The first stop for the Ghostbusters 30th Anniversary art show is this weekend and Gallery 1988 has just released more posters and information. More than 70 artists are part of the traveling exhibit but the majority of their work will only ever been available to purchase in person at one of the four stops. There will, however, be a set of screenprints available both at the shows, and online, and those are by Mike Mitchell, Phantom City Creative, Anthony Petrie, Tom Whalen, Tara McPherson, Dan Mumford, Dave Perillo, Lora Zombie, Godmachine, Rich Kelly, Mark Englert, DKNG and Joshua Budich.
We've already seen a few of those pieces and now more have been revealed. Below, check out additional images for the Ghostbusters 30th Anniversary art show which hits New York, Los Angeles, Chicago and July over the next few months.
UPDATED: We've added more new art below.
The first images from the Ghostbusters 30th anniversary art show were revealed here. Below are three new posters by Mike Mitchell, DKNG and Nicole Gustafsson. (UPDATE – as well as Tom Whalen, Glen Brogan, Julian Callos and Lora Zombie)
On the Gallery 1988 Tumblr, there are some new details on the show and what pieces will be on sale where, etc. Here's a small excerpt:
A majority of the artwork will ONLY BE AVAILABLE by attending one of the galleries in-person. A very small allotment of prints has been set aside for each city, with a smaller selection at our final Comic Con stop. This is the ONLY way to purchase this artwork. There will be small surprises at each stop as well.A commemorative series of special 30th Anniversary screenprints WILL BE AVAILABLE in limited amounts ONLINE, in addition to in-store, at ghostbusters30th.com. These will be released sporadically over the next month. 
These posters, and many more, will first go on sale this Saturday, April 19 in New York. Go to www.ghostbusters30th.com for the full info and artist list. Here's the breakdown of the shows.
Ghostbusters 30th Anniversary Art Show: New York
April 19 – 26
69 Leonard Street (between Church & Broadway), New York, NY 10013
Opening reception: April 19 7-10 p.m.
Ghostbusters 30th Anniversary Art Show: Los Angeles
May 17 – June 1st
Gallery 1988 (West), 7308 Melrose Avenue, Los Angeles, CA 90046
Opening reception: May 17 7-10 p.m.
It'll then be in Chicago on June 20-22 and, finally, San Diego Comic-Con July 23-27. We'll have more art later this week as the first show gets closer.