Paul Bettany Discusses Vision In 'Avengers: Age Of Ultron'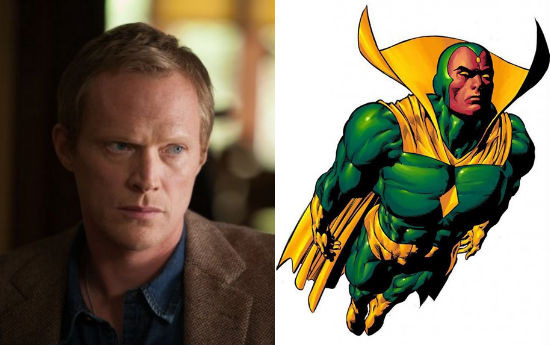 The trades reported it, Kevin Feige didn't deny it and now Paul Bettany has admitted it. He's playing Vision in Avengers: Age of Ultron. The voice of J.A.R.V.I.S., a  longtime Marvel Cinematic Universe mainstay, recently appeared on Jimmy Kimmel Live to promote Transcendence. There, he copped to finally having to do more than one day of work on a Marvel movie, for the Joss Whedon project which is currently filming. Obviously he couldn't give a lot of details, but hearing him talk about it is cool on its own. Check out the Paul Bettany Vision video and transcript below.
Thanks to Jimmy Kimmel Live for the Paul Bettany Vision video. It starts at 1:15 in.
If you can't watch, Kimmel asks him what the Vision's powers are, and here's what Bettany said:
Oh I can do all sorts of things, but I'm not allowed to really talk about them and what we're going to do because there might be a Marvel agent in the room who will actually wrestle me to the ground and fire me.
Kimmel pointed out the Vision's powers are in the comic and Bettany said occasionally the directors "pick and choose," suggesting we might not see everything he's capable of (Flight, strength, holograms, etc.). Then, he added this funny anecdote:
It's very exciting for me, but everything is a double edged sword, right? Because I was playing J.A.R.V.I.S. for years and my job was I would turn up at a recording studio for 45 minutes, do all my stuff, and then they would give ma huge bag of cash and then I'd go home. Now it turns out they've found me out and they want me to actually do something!
Writer director Joss Whedon is currently shooting the film, aimed at a May 1, 2015 release. Along with Bettany, Avengers: Age of Ultron co-stars Robert Downey Jr., Chris Evans, Chris Hemsworth, Mark Ruffalo, Jeremy Renner, Scarlett Johansson, Elizabeth Olsen, Aaron Taylor-Johnson, James Spader and others.