Harrison Ford AMA Highlights: Blade Runner 2, Who Shot First, Expendables 3 And Indiana Jones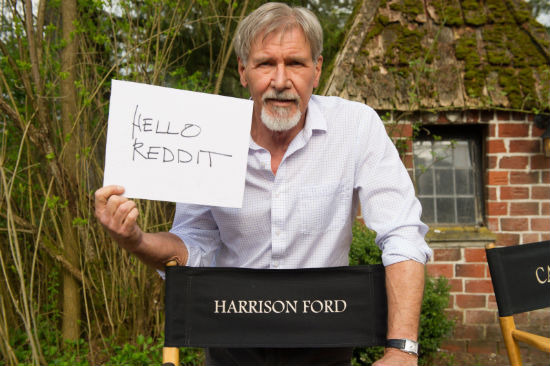 It was a star-studded weekend on Reddit. Not only did director James Cameron do an AMA, legendary actor Harrison Ford did one, too. Both were promoting the environmental documentary Years of Living Dangerously. As things tend to do, each went awesomely off-topic. In Ford's case, he admitted he still hopes a Blade Runner 2 get made but has yet to see a script. He talked about playing Han Solo and Indiana Jones as well as some of those characters' more interesting quirks. His recent roles in Anchorman 2 and Expendables 3 were brought up and much more. Unfortunately, there was no mention of Star Wars Episode VII or Indiana Jones 5 but read all the highlights of the Harrison Ford AMA below.
The full Harrison Ford AMA can be found on Reddit at this link. Ford's answers are here. There's a lot more there, we've just pulled some of the geeky highlights.
Thoughts on a Blade Runner sequel:
I'm quite curious and excited about seeing a new script for Blade Runner if in fact the opportunity would exist to do another, if it's a good script I would be very anxious to work with Ridley Scott again, he's a very talented and passionate filmmaker. And I think it would be very interesting to revisit the character.
Is Deckard a replicant:
I think that it's a wonderful storytelling mechanism for that question to be left unanswered. I love that people are still curious about it.
Does he keep any movie props:
No, I don't keep any, I'm not terribly nostalgic and I don't have a lot of things from my movies. And certainly don't have a lot of them around my house. Those are separate worlds for me.
Prefer playing Han or Indy:
I think Indiana Jones was a lot of fun to do because of the places we went to and the adventures and the action. But Han Solo was also a huge part of my life.
Does he hate snakes:
I actually like snakes! When I was young, I was a boy scout nature camp counselor, and one of our projects was collecting snakes and creating an environment for them, so I'm quite familiar with snakes and think they'r fantastic creatures.
Did he ad lib "I know:"
It's not really an ad lib, it was a suggestion, and movie making's a real collaborative process at its best. You don't ad lib it, you suggest it and then you try something in rehearsal and then you agree. So it was my suggestion, because I thought it was more of a character line than what was written, but the director and Carrie and I all thought it was a good idea at the time so we did it.
Why do Expendables 3:
I was on my way to Indonesia to do Years of Living Dangerously, and halfway around the world. And the location for Expendables was right on the way, and they asked me for a relatively short period of time, and it seemed like fun. I hadn't seen the films but I looked one of them and i thought it was kind of funny, so I thought why not?
What was it like working on Anchorman 2:
It was goofy. I hadn't seen Anchorman, it was only one day's work, and I knew that it was very popular, and I admired the talents of the people involved, so I went to do it and had a great time, I enjoyed it. I still haven't seen it though.
Why does he hate to be interviewed:
Oh no, in most cases, those guys are so talented and so funny. I don't hate it at all, in fact it's interesting you would think that because I usually have a really good time. I'm there to bring attention to some project that's about to be released, and it's great to be able to take advantage of that to bring attention to bring attention to the film.
Who shot first, Han or Greedo:
I don't know and I don't care.
Han Solo or Indiana Jones in a fight: