Rumor: Who Is Holly Hunter Playing In 'Batman Vs. Superman'?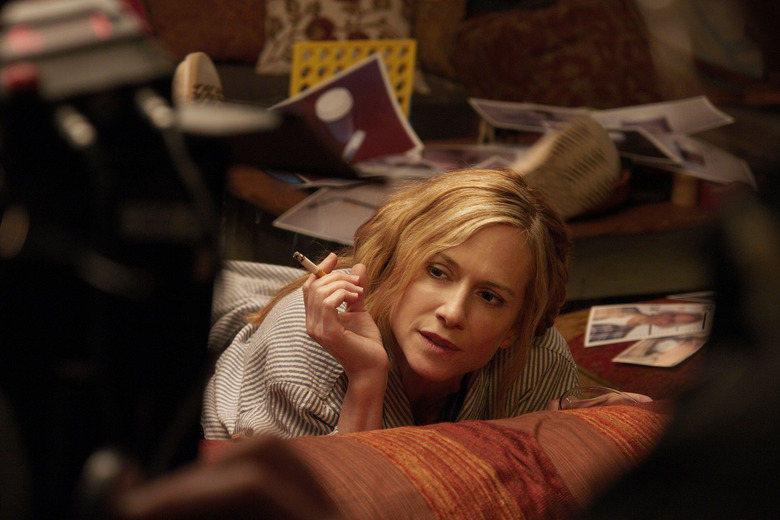 So far, most of the Batman vs. Superman actors announced are playing very familiar roles. We've got Henry Cavill as Superman, of course, plus Ben Affleck as Batman, Gal Gadot as Wonder Woman, Jesse Eisenberg as Lex Luthor, and Jeremy Irons as Alfred. But last week, a trio of names were added with no indications about which characters they'd be playing.
Today, we finally might have some dirt on one of them. According to a new rumor, Holly Hunter will be a woman who has a history with Batman in the comics. Hit the jump for more details.
If it's the former, that goes against what previous reports that Hunter (along with Tao Okamoto and Callan Mulvey) would be playing a character created specifically for the movie. But it's not too difficult to imagine the filmmakers writing a character that serves a similar purpose as Leslie Thompkins without quite being Leslie Thompkins.
In the comics, Thompkins is a doctor who's close friends with Bruce's dad. After his death, she maintains a close relationship with Bruce and becomes a sort of parental figure to him, not unlike Alfred. (In fact, she's been romantically linked to Alfred at times.) She's aware of Bruce's Batman identity and sometimes provides medical treatment to Batman and his superhero colleagues.
Even assuming Latino Review's intel is correct, that doesn't tell us how exactly Thompkins will fit into the storyline. Nor does it reveal anything about what Okamoto or Mulvey will be doing in the film. But the presence of Thompkins suggests we'll be learning quite a bit about this Batman's past.
Batman vs. Superman is set to open May 6, 2016, at least until Warner Bros. and Marvel Studios resolve their little pissing contest.