'Intramural' Trailer: A Bunch Of SNL-Ers Made A Sports Movie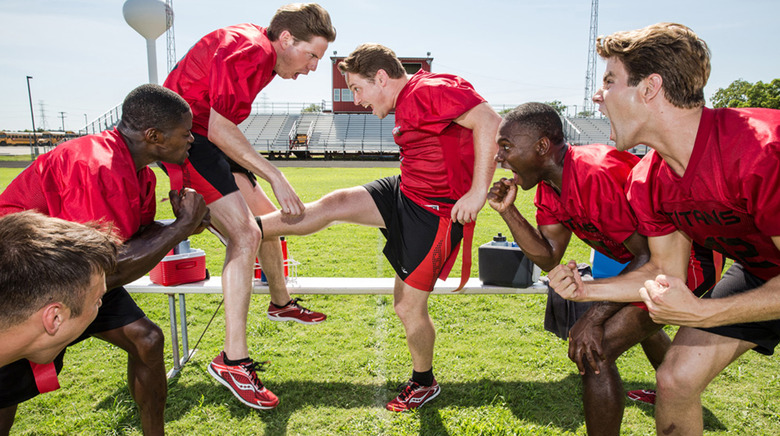 The Saturday Night Live stars are the last people you'd expect to see in an inspirational sports drama, but they're the perfect folks to send up the inspirational sports drama subgenre. Kate McKinnon, Jay Pharoah, and Beck Bennett all make appearances in the first Intramural trailer, which, as the title suggests, takes on the world of intramural college sports.
The video plays like a sort of indie Dodgeball, down to a shot of a cranky, violent dude in a wheelchair barking orders at his scrappy team. Watch the new Intramural trailer after the jump.
Directed by Andrew Disney, Intramural stars Jake Lacy (Pete from The Office) as a fifth-year college student who gets involved in intramural sports. (Presumably the detail about it being his fifth year is there to explain why Lacy looks so old, but he — and pretty much everyone else in this cast — still looks closer to 30 than 23.)
However, his new attempt to play flag football comes with some old history. Four years ago, as a bright-eyed freshman, he and his team went all the way to the finals before a disastrous event led to his swearing off the sport forever. Now, as he tries to bring the guys back together, he's got some old fears to face and scores to settle.
Intramural will have its world premiere at the Tribeca Film Festival later this month. There's no official word yet on more general release plans, but our money's on it hitting VOD later this year. Nikki Reed, D.C. Pierson, and Michael Hogan (Tigh from Battlestar Galactica, of all people) also star.
Intramural is a hilarious send-up of inspirational sports movies replete with epic training montages, over the top motivational speeches and bone crunching tackles, "Intramural" tells an epic tale of a group of 5th year seniors who form an intramural football team in their final year of college before being forced out into the real world. "Intramural" is the GLORIOUS love child of cult classics such as "Wet Hot American Summer" and "Dodgeball".