Two 'Neighbors' Red-Band Trailers: "We're Just Getting Started"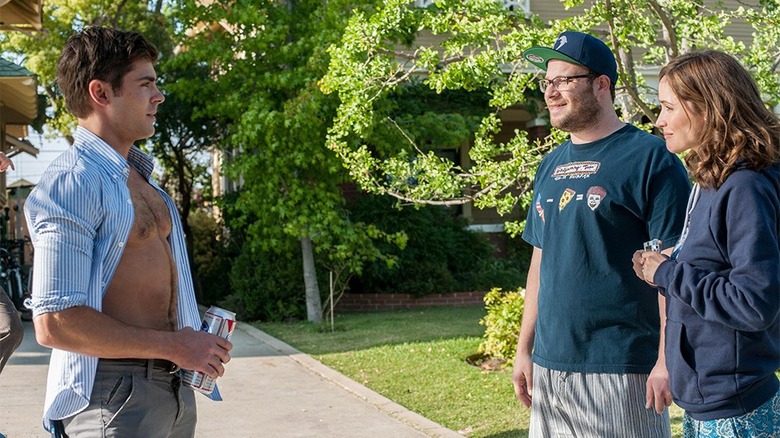 In real life, Seth Rogen and Zac Efron are separated by a mere five years in age. But even a few years can make a big difference in early adulthood, and in Neighbors, their lives couldn't be further apart. Mac (Rogen) is a (relatively) responsible father and husband, while Teddy (Efron) is a hard-partying frat boy.
Unfortunately for both parties, they're stuck living next door to one another. While they make efforts to get along early on, tensions soon escalate into all-out intergenerational war, and it turns out that the one thing both sides have in common is a willingness to fight dirty. Watch not one but two Neighbors red-band trailers — one for the international market and one for the domestic one — after the jump.
Some films disappoint by overselling how rude or raunchy they really are. But based on the reviews out of SXSW, Neighbors isn't one of those. Variety called it "lewder, weirder, louder, leaner, meaner and more winningly stupid" than anything else on Stoller or Rogen's resumes, while HitFix raved that it was "uproariously funny and almost breathtakingly dirty."
Nor is Neighbors one of those movies that seems content to just coast by on shock factor. The Playlist was taken with what it called "some of the most elaborately choreographed and beautifully photographed party sequences we've ever seen in a mainstream studio comedy." Badass Digest loved that it had "an amazing amount of heart."
All of that may help explain how Neighbors has a perfect 100% score on Rotten Tomatoes at the moment. Granted, that's with just eleven reviews in. And if the movie is even half as outrageous as the trailers promise it is, that figure is bound to dip soon. But it's still a great start.
Neighbors opens May 9. Rose Byrne and Dave Franco round out the cast — she as Rogen's wife, he as Efron's second-in-command.