Drew Goddard To Direct 'Sinister Six'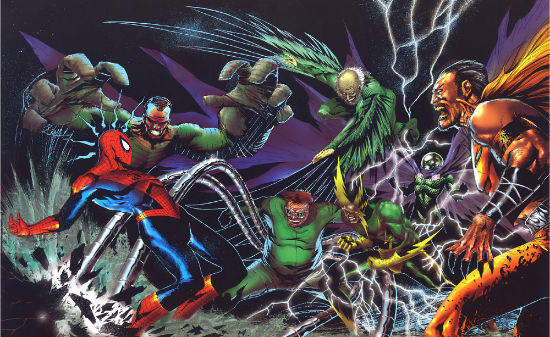 When Sony announced plans for two Spider-Man spin-off films, Venom and Sinister Six, the studio named Drew Goddard (The Cabin in the Woods co-writer and director) as screenwriter for the latter film. At the time, Goddard was tipped as a possible director for the movie, and that has now been confirmed.
The Sinister Six is that group of super-villains that has menaced Spider-Man in comics stories over the years, with a roster that originally included Doctor Octopus, Electro, Kraven the Hunter, Mysterio, Sandman and The Vulture. Other characters have taken part in ganging up on Spidey, however, and the current run of Marc Webb films teases a roster that could include the Lizard, Rhino, Electro, Vulture, Doctor Octopus, and possibly the Green Goblin.
THR reported on the deal, with the studio quote that the idea is to create a "franchise brain to expand the universe for the brand and to develop a continuous tone and thread throughout the films." In other words, like Marvel Studios' output, the Spider-Man films will all be connected in some manner, beyond the obvious character carry-overs.
Precisely how Sony will create a compelling film from the roster of bad guys is uncertain at this point, but Goddard is a great choice to write and direct. With The Cabin in the Woods he proved that he can handle tricky material with a sense of humor and an eye for gleeful violence — that will be an asset when it's time to focus on a group of mean dudes like the Sinister Six.
Meanwhile, Alex Kurtzman, Roberto Orci, and Ed Solomon are writing Venom, which Kurtzman will direct.
Goddard is busy on the superhero front, as he's also meant to write and act as showrunner for Marvel's Daredevil series on Netflix.