LOL: Anna Kendrick Spoofs 'Little Mermaid' And 'Beauty And The Beast' On 'SNL'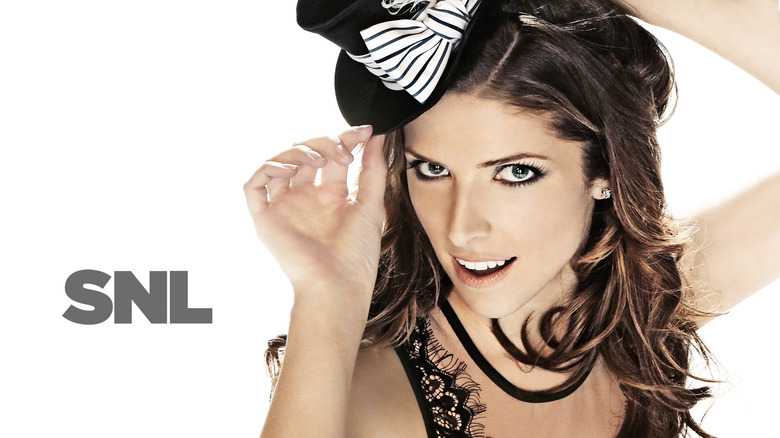 Later this year, Anna Kendrick will playing classic Disney princess Cinderella in the mash-up musical Into the Woods. But first, she got the chance to cycle through a few other Disney princesses during her Saturday Night Live hosting gig this weekend.
For her opening monologue, the Pitch Perfect star channeled Belle of Beauty and the Beast, flitting across the SNL stage as if it were an 18th century French village. Later on, she did her best take on a modernized The Little Mermaid as an Ariel who — much to Ursula's horror — emulates contemporary pop singers like Britney Spears and Kesha. Hit the jump to watch both videos.
And here's her Little Mermaid.
Of the two skits, the monologue is the stronger one. It does a better job of showing off Kendrick's lovely pipes, and the "Belle" parody makes for an energetic opening to the show. But the Little Mermaid goof has its moments too. Aidy Bryant might even be a better Ursula than Kendrick is an Ariel.
In combination, these sketches serve as perfect early promos for Kendrick's upcoming appearance in Rob Marshall's Into the Woods. She'll play Cinderella there, with Chris Pine as her dashing (and, yes, singing) prince. Honestly, between her cheerful disposition and enviable vocal talents, Kendrick is such a perfect Disney princess type that it's just surprising she hasn't played one already.
Of course, she does have a bit more edge than the old Cinderella did. The one from the 1950 movie would never have participated in a music video called "Dongs All Over the World," whereas Kendrick looks perfectly at ease rapping about her plans to "destroy the dong."
Into the Woods opens Christmas Day. In the meantime, check out the full SNL episode on Hulu.