'Godzilla' Extended Look: "You Have No Idea What's Coming!"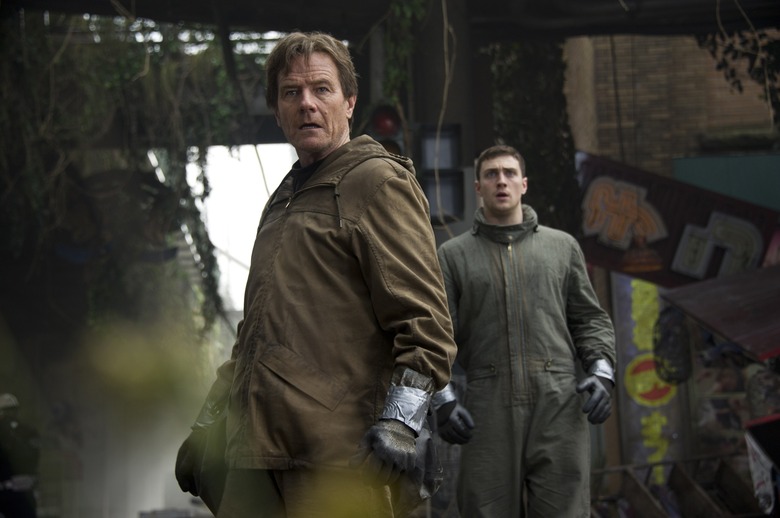 There's no shortage of monsters and supervillains coming our way this summer, but Sentinels and Decepticons have nothing on the behemoth that is Godzilla. And based on the trailers we've seen so far, Godzilla the movie may tower over most of its peers in terms of quality, too. The ads have been nothing short of fantastic, and today's Godzilla extended look video is no different. Watch it after the jump.
Like the other TV spots and trailers that have come before it, this one teases the size and power of the creature without ever showing it in his entirety. I hope they keep that up all the way to the theaters. The big reveal will be all the more impressive if it's on a gigantic IMAX screen instead of a dinky laptop computer.
Instead, the Godzilla extended look focuses on the monster's impact. Bryan Cranston gets what looks like an emotional storyline highlighting the destruction Godzilla has left behind, while Aaron Taylor-Johnson plays one of the heroes who helps fight back.
Godzilla stomps into a theater near you on May 23.
An epic rebirth to Toho's iconic Godzilla, this spectacular adventure, from Warner Bros. Pictures and Legendary Pictures, pits the world's most famous monster against malevolent creatures who, bolstered by humanity's scientific arrogance, threaten our very existence.
Gareth Edwards directs "Godzilla," which stars Aaron Taylor-Johnson ("Kick-Ass"), Oscar® nominee Ken Watanabe ("The Last Samurai," "Inception"), Elizabeth Olsen ("Martha Marcy May Marlene"), Oscar® winner Juliette Binoche ("The English Patient," "Cosmopolis"), and Sally Hawkins ("Blue Jasmine"), with Oscar® nominee David Strathairn ("Good Night, and Good Luck.," "The Bourne Legacy") and Bryan Cranston ("Argo," TV's "Breaking Bad").