'Dredd 2:' Karl Urban Promises That The Team Is Still Trying To Make A Sequel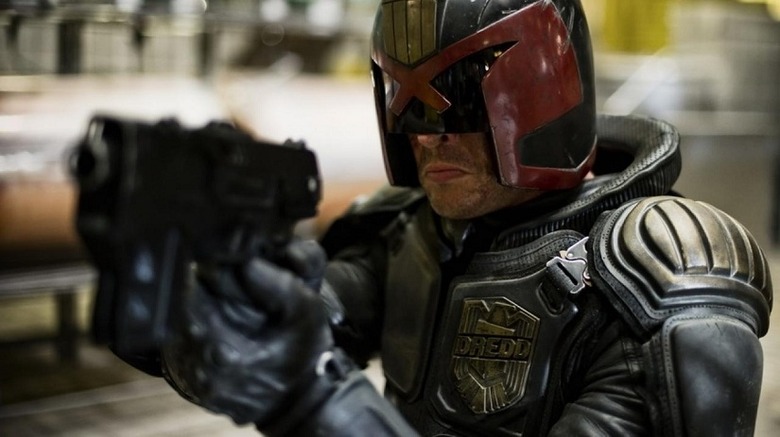 The 2012 remake of Dredd wasn't a big hit financially but critically, and among fans, it was revered. Since its release, fans have clamored for a sequel, starting Facebooks and even an online petition. Star Karl Urban, writer Alex Garland, director Pete Travis and others have all expressed interest in continuing the franchise but, unfortunately, they aren't the ones who sign the checks. The powers that be have not deemed a Dredd sequel to be financially viable so, despite all efforts, it's still just a dream.
In a new video, though, Karl Urban gives fans yet another glimmer of hope saying "we're working very very hard to bring you Dredd 2."
Comic Book Movie alerted us to this Dredd 2 Karl Urban video:
Released on September 21, 2012, Dredd grossed only $13 million domestic and about $36 million worldwide. With a budget of $50 million, plus marketing, that's a pretty big disappointment. It's going to take a miracle to get this film made.
So what could Urban be referring to? Well, we heard Garland had had some meetings with the studio and the director about the project. Is Urban referring to that or have those talks begun to take shape? Lots of films that weren't huge financial successes were granted sequels years later based on fan encouragement. Some were good, some were not, but Dredd could join that list.
Here's the description of the original film, which is well worth checking out, especially if you can see it in 3D:
The future America is an irradiated waste land. On its East Coast, running from Boston to Washington DC, lies Mega City One- a vast, violent metropolis where criminals rule the chaotic streets. The only force of order lies with the urban cops called "Judges" who possess the combined powers of judge, jury and instant executioner. Known and feared throughout the city, Dredd (Karl Urban) is the ultimate Judge, challenged with ridding the city of its latest scourge – a dangerous drug epidemic that has users of "Slo-Mo" experiencing reality at a fraction of its normal speed. During a routine day on the job, Dredd is assigned to train and evaluate Cassandra Anderson (Olivia Thirlby), a rookie with powerful psychic abilities thanks to a genetic mutation. A heinous crime calls them to a neighborhood where fellow Judges rarely dare to venture- a 200 story vertical slum controlled by prostitute turned drug lord Ma-Ma (Lena Headey) and her ruthless clan. When they capture one of the clan's inner circle, Ma-Ma overtakes the compound's control center and wages a dirty, vicious war against the Judges that proves she will stop at nothing to protect her empire. With the body count climbing and no way out, Dredd and Anderson must confront the odds and engage in the relentless battle for their survival.