'Dreadstar' And 'Federal Bureau Of Physics' Films In Development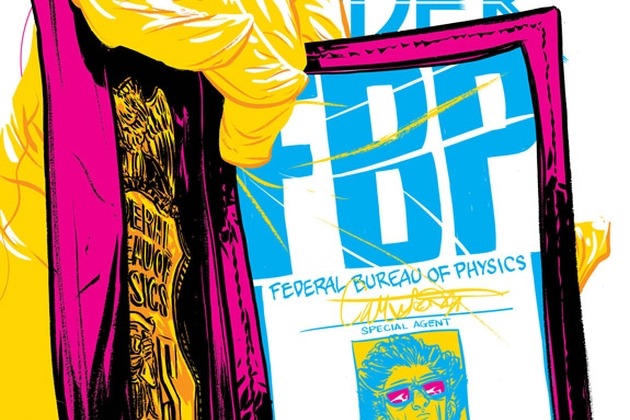 While the reports of new indie comics being developed as feature films seem to have slowed a bit, two not-quite-indie titles are being set for the big screen. Vertigo and Epic Comics are (or were, in Epic's case) the arms of DC and Marvel Comics that blur the lines between indie and major publishers. One of each of their titles have recently gone into development. Vertigo's Federal Bureau of Physics has a new push from producer David Goyer at Warner Bros., while Epic's first major title, Dreadstar, is being developed by Benderspink and Illuminati Entertainment.
First up: Federal Bureau of Physics, which was once called Collider. The comic is about a version of Earth in which things like gravity disruption and wormholes can be as regularly present as rain or snow, and so a government agency is created to deal with them .
Deadline reports that Justin Marks has been hired by David Goyer to script an adaptation for WB, based on a treatment by the comic's co-creator Simon Oliver. Marks and Goyer have worked together before, on the Green Arrow film Supermax that was in development for a long time, but never made.
Marks, in fact, has been one of those "always a bridesmaid" writers for a long time. His only produced theatrical feature is the 2009 Street Fighter movie, but the reputation of his Supermax and He-Man scripts have landed him a lot of development work. His Jungle Book script is now in production at Disney, however, with Jon Favreau at the helm.
And then there's Dreadstar, which is and isn't a Marvel movie. Starting in the early '80s, Epic was Marvel's creator-owned arm, which spun off from a magazine title in 1982 and ran for a little over a decade. (The original English-language run of Akira, for example, came from Epic Comics.) The Epic line didn't exactly flourish; the best-selling titles were actually not creator-owned stories, but rather "mature readers" versions of Marvel heroes, such as Elektra: Assassin and the Havok and Wolverine story Meltdown.
The first regular Epic Comics title was Dreadstar, by Jim Starlin. That title is now in development to become a film. THR describes the comic as being about "Vanth Dreadstar, the last survivor of the Milky Way Galaxy who is torn between two powerful and evil empires, the Monarch and the Church of The Instrumentality. He is aided in his battles by a motley crew of survivors, a mystic by the name of Syzygy Darklock, a telepath named Willow and a cat-man called Oedi."
There's no writer on board Dreadstar just yet.