'Hunger Games' Casts 'Game Of Thrones' Star Gwendoline Christie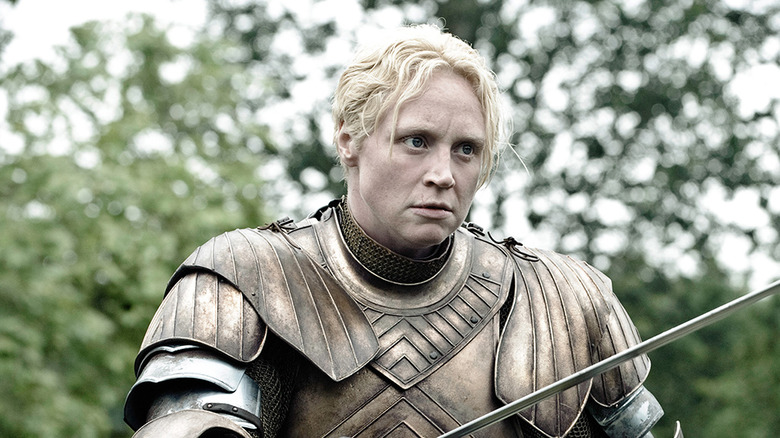 The Hunger Games franchise has no shortage of kick-ass ladies, and now it's adding another. Gwendoline Christie, best known as Brienne of Tarth on HBO's Game of Thrones, has just boarded The Hunger Games: Mockingjay – Part 2. She replaces Lily Rabe in the role of Commander Lyme. Learn more about the last-minute change after the jump.
But her loss is Christie's gain. The Hunger Games marks Christie's first major movie role since Game of Thrones shot her to fame in 2012. Her character on that show, Brienne, has proven to be a fan favorite. She's expected to play a big role in the upcoming fourth season, which kicks off this Sunday.
The Hunger Games: Mockingjay has protagonist Katniss (Jennifer Lawrence) leading a revolution against the corrupt Capitol. Christie's Lyme is herself a former victor, from District 2, and is now one of the leaders of District 13. (If the phrase "District 13" means nothing to you, don't worry — you'll learn all about it in the next film.)
Physically, Christie is a better match for Lyme than Rabe was. The character is described in Suzanne Collins' novels as a muscular, middle-aged woman over six feet tall. Christie's definitely got the height and the build, and while she's not middle-aged (IMDb puts her in her mid-30s), she is a few years older than Rabe.
Francis Lawrence, who directed Catching Fire, returns to the helm for Mockingjay. Back-to-back production on the two films began last fall in Atlanta, and will wind down this spring after shooting in Berlin and Paris. Part 1 opens November 21, with Part 2 following on November 20, 2015.