Bryan Cranston Writing 'Breaking Bad' Memoir; More 'Better Call Saul' Characters Revealed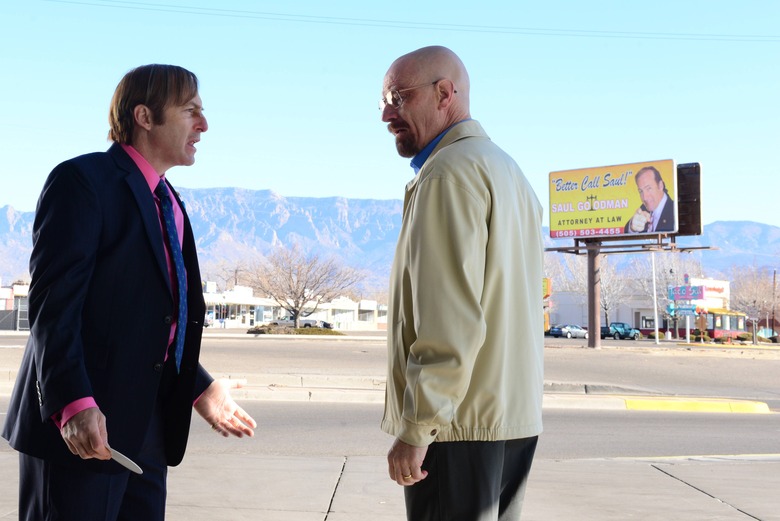 Breaking Bad is over, but it's far from forgotten. Case in point: AMC is currently working on the spinoff show Better Call Saul, about Bob Odenkirk's sleazy lawyer character. Though most of the characters revealed so far are familiar ones, we now have details on some of the new people that'll populate the show.
Meanwhile, Bryan Cranston isn't quite ready to close the book on Walter either. The actor is set to write a memoir about his years on the show, as well as his "life and work" in general. Hit the jump for more details on both projects.
[New characters] include regular players named Burt, Dr. Thurber, Beth, Eddie, and Zak and Luke. Burt is described as a "Kennedy" type lawyer in a white-shoe law firm. Dr. Thurber and Beth are also supposed to be lawyers. Eddie is a career criminal, a cool guy who speaks Spanish. Zak and Luke are skateboarding twins around 20 years old.
Odenkirk and Jonathan Banks are reprising their Breaking Bad roles as series regulars on Better Call Saul, with Cranston and Aaron Paul expected to make appearances as well. However, casting for the new roles have not yet been announced. Vince Gilligan did a fantastic job of casting Breaking Bad, so it should be fun to see whom he gets for Better Call Saul.
As for Cranston's other upcoming Breaking Bad-related project, the NYT got the scoop. In a statement, Cranston said that he hoped his book would "tell the stories of my life and reveal the secrets and lies that I lived with for six years shooting Breaking Bad."
Scribner, an imprint of Simon & Schuster, is publishing the book, with the release planned for Fall 2015. Better Call Saul is on track to premiere sometime this fall.