'Star Wars:' 'Big Bang Theory' And 'The Goldbergs' Get Lucasfilm-Approved May 4th Episodes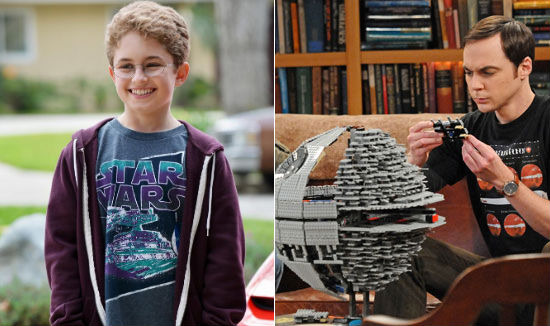 May 4th has become an unofficial Star Wars holiday. This year, two of the biggest sitcoms on television are officially celebrating. Lucasfilm has signed deals with CBS's The Big Bang Theory and ABC's The Goldbergs to air special Star Wars-centric advertisements, er, episodes around May 4.
With Star Wars Episode VII rumored to start shooting May 14 in Morocco, the fact Lucasfilm is acknowledging "May the Fourth Be With You" in such a public way suggests these episodes could be timed to a big announcement. Below, read about what the Star Wars Big Bang Theory and Goldbergs episodes will each hold.
The Hollywood Reporter broke the news of the Star Wars Big Bang Theory and Goldbergs episodes.
The Big Bang Theory episode is called "The Proton Transmogrification" and will air May 1. Here's the description via THR:
The gang gets together to celebrate the annual geek holiday, while Sheldon (Jim Parsons) is guided by visions of his childhood idol and mentor, Professor Proton (Emmy winner Bob Newhart), who appears to the socially challenged genius as his own Jedi master.
The Goldbergs episode is called "A Wrestler Named Goldberg" and will air May 6. Here's that description:
The episode sees Adam (Sean Giambrone) and Erica (Hayley Orrantia) encounter elaborately costumed Star Wars fans, including Reno 911's Thomas Lennon, while waiting in line at the Star Wars Episode VI: Return of the Jedi opening.
Exactly how the official Lucasfilm stamp of approval will tie into each episode remains to be seen. Lots of shows (including these two, as seen above) have referenced Star Wars before or used Star Wars iconography. (Rachel from Friends in the Princess Leia Slave outfit pops to mind for no reason whatsoever.) Personally, I'm more curious if these massive network television audiences are simply a way to capitalize on a huge Star Wars announcement.
If you don't already watch these shows, will Star Wars themes episodes change that?