Emily Blunt Boards 'Sicario', The Next Pic By Denis Villeneuve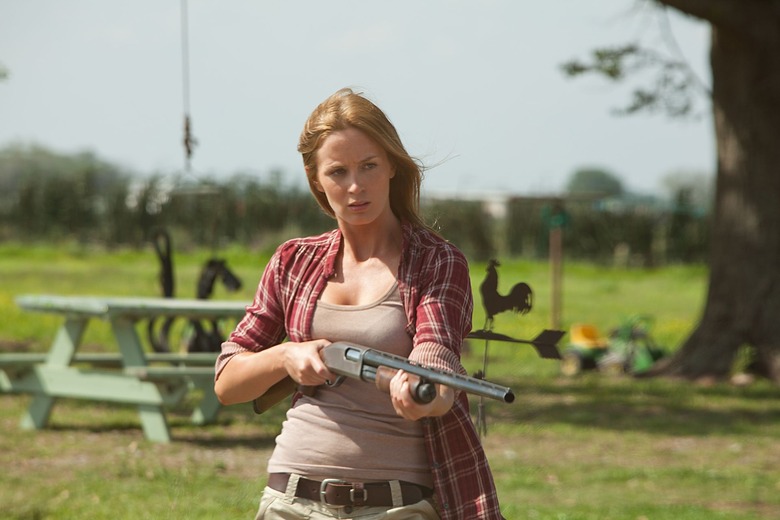 Hours ago, we got word that Amy Adams has entered early talks to star in Story of Your Life. But before she and director Denis Villeneuve get to face down some aliens, he'll be making a stop at the border for Sicario. Emily Blunt is now negotiating to lead the thriller, which was scripted by Taylor Sheridan. Get plot details and more after the jump.
Once they get there, though, they get caught up in more violence, peril, and depravity than they could have imagined. To give you an idea of just how disturbing that world is, Sicario has been described as being in the vein of No Country for Old Men.
Not that that should be a problem for Blunt. She got to show off her tough side in 2012's Looper, and will get even more badass this summer in Doug Liman's sci-fi actioner Edge of Tomorrow. But her upcoming slate isn't all scowls and guns. She also has a role in the Disney musical Into the Woods, due out this Christmas.
Sheridan got some Black List love in 2012 for his script Comancheria, which has yet tobe produced, and has lately been working on a Greek god series for Fox titled Olympus. However, he may be more recognized for his acting work. He played David Hale on the FX series Sons of Anarchy, and had a recurring role as Danny Boyd on Veronica Mars.
Sicario is expected to shoot this summer, with Story of Your Life filming shortly afterward in early 2015. Basil Iwanyk, Thad and Trent Luckinbill, and Edward McDonnell are producing Sicario.