'Guardians Of The Galaxy' Photos: Full Body Portraits Of The Whole Team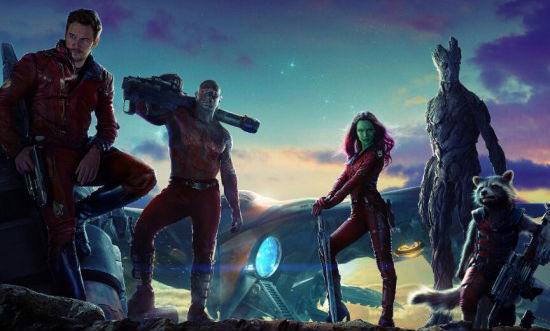 Captain America: The Winter Soldier opens this weekend, and then all eyes turn to the skies. That's where James Gunn's Guardians of the Galaxy takes place: in deep, deep space. There, an Earth-born transplant named Star-Lord (Chris Pratt) will be arrested and meet four other crazy creatures to form a formidable team to fight Ronan the Accuser (Lee Pace). Those allies are Gamora (Zoe Saldana), Drax the Destroyer (Dave Bautista), Rocket Raccoon (Bradley Cooper) and Groot (Vin Diesel). And if that plot sounds a little thin, that's because the film doesn't open until August 1 and Marvel has been pretty tight lipped about it. We'll surely learn more soon, though, as it becomes the primary focus in the Marvel Cinematic Universe.
A few weeks back, we saw the teaser poster for Guardians of the Galaxy. Now, the character elements from that poster have been uploaded as large, individual images. Each offers a great opportunity to check out the detailed designs of each of the main characters. Check out some Guardians of the Galaxy photos below.
Thanks to Comic Book Movie for the heads up.
Nothing new, but definitely a better glimpse at what the poster truly held. What are your thoughts on these Guardians of the Galaxy photos?
Guardians of the Galaxy opens in the US on August 1, 2014.
An action-packed, epic space adventure, Marvel's "Guardians of the Galaxy" expands the Marvel Cinematic Universe into the cosmos, where brash adventurer Peter Quill finds himself the object of an unrelenting bounty hunt after stealing a mysterious orb coveted by Ronan, a powerful villain with ambitions that threaten the entire universe. To evade the ever-persistent Ronan, Quill is forced into an uneasy truce with a quartet of disparate misfits—Rocket, a gun-toting raccoon, Groot, a tree-like humanoid, the deadly and enigmatic Gamora and the revenge-driven Drax the Destroyer. But when Quill discovers the true power of the orb and the menace it poses to the cosmos, he must do his best to rally his ragtag rivals for a last, desperate stand—with the galaxy's fate in the balance.