'A Night In Old Mexico' Trailer: Robert Duvall Finds Bad Money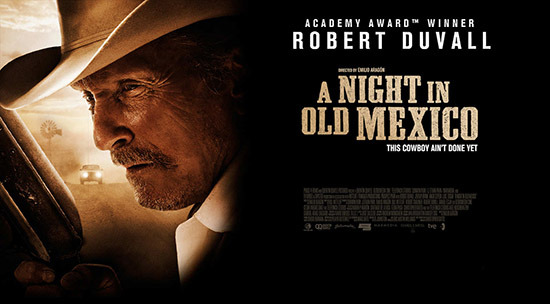 In A Night in Old Mexico there's a mini-Lonesome Dove reunion of sorts, as the film has Robert Duvall working with a script by Lonesome Dove scribe William T. Wittliff. This is a very different sort of project, however. Duvall plays an old rancher who has lost his land, and heads down to Mexico for one last drunken night out with his estranged grandson. But they give a ride to some bad men en route, and and up with the money those guys were carrying. It's a lot of money, and people with guns want to get it back. Naturally, that gives Duvall a chance to show his tough old leathery side. Check out the A Night in Old Mexico trailer below.
A Night in Old Mexico hits VOD and theaters on May 16. Trailer via The Playlist.
Forced to give up his land and his only home, cantankerous Texas rancher Red Bovie isn't about to go quietly to the dismal trailer park that's all he can now afford, and instead goes off with his grandson Gally – son of his long-estranged son Jimmy – for one last wild and woolly adventure during a night in Old Mexico.