POTD: Chris Evans Passes The (Human) Torch To Michael B. Jordan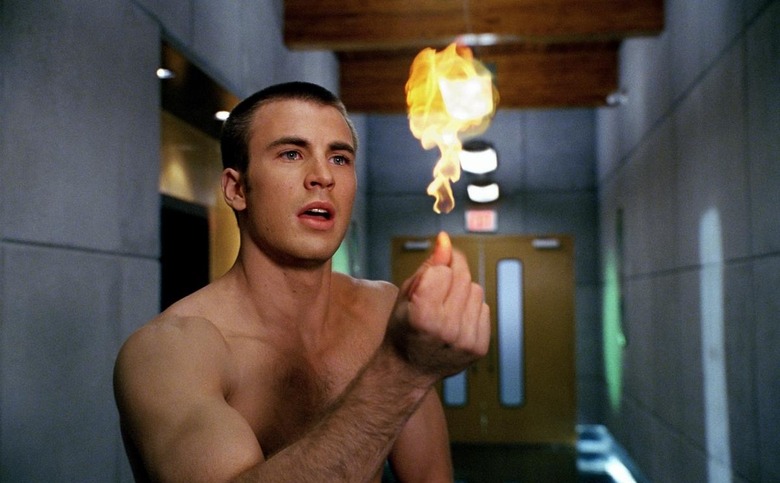 There's been some debate over whether or not Michael B. Jordan is the right guy to play Johnny Storm in Josh Trank's Fantastic Four, as there always is whenever a high-profile superhero role gets cast. But one guy who's wholeheartedly in Jordan's corner is the former Johnny Storm himself, Chris Evans.
In a cute photo making the rounds today, the two Human Torches cozy up together with big smiles. And lest you think Evans is just faking it for the camera, he's also gone on record expressing his excitement at seeing Jordan in his old role. Hit the jump to see the picture and read Evans' comments.
The accompanying caption reads "The Torch has been passed! #FlameOn," followed by four flame emoticons.
Meanwhile, Evans gushed about Jordan in an interview with the New York Daily News.
It's so funny, you almost feel precious over the role that you don't want someone else to do it. But when you hear someone phenomenal is doing it, it's very exciting like you almost can't wait... I couldn't even give that guy any advice if I wanted, that guy is so good... It's exciting to see what he's going to do, because I know he's going to reinvent it in a way that I could never have imagined... It's almost like we're sharing, the character is ours. I feel like I'm connected with him in a way, It's a nice feeling.
Evans has portrayed Johnny Storm twice on the big screen, in 2005's Fantastic Four and 2007's Fantastic Four: Rise of the Silver Surfer. These days, though, he's keeping himself busy playing another iconic Marvel hero — Captain America, whose new film Captain America: The Winter Soldier opens this weekend.
Trank's new Fantastic Four reboot is expected to begin shooting shortly in Baton Rouge, Louisiana. Rounding out the cast are Miles Teller as Reed Richards / Mr. Fantastic, Kate Mara as Sue Storm / Invisible Woman, and Jamie Bell as Ben Grimm / The Thing. It'll land in theaters June 19, 2015.