'Terminator: Genesis': Byung-Hun Lee And More Join Cast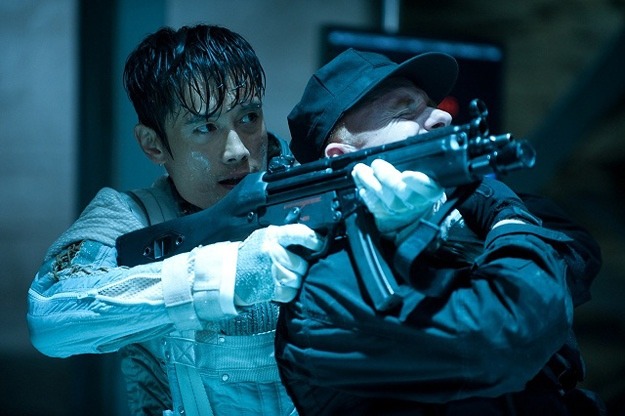 With shooting expected to begin in just a few weeks, Terminator: Genesis is locking up its supporting cast. G.I. Joe star Byung-hun Lee has just been added to the roster, along with Michael Gladis (Mad Men) and Sandrine Holt (House of Cards).
The trio join Emilia Clarke, Jason Clarke, Jai Courtney, J.K. Simmons, Dayo Okeniyi, and Arnold Schwarzenegger in the Alan Taylor-directed sci-fi sequel. Get all the latest info after the jump.
As previously reported, Emilia Clarke is playing Sarah Connor, Jason Clarke is playing her son (from the future, obvs) John Connor, and Courtney is playing his dad Kyle Reese. Schwarzenegger, of course, is reprising his role as the Terminator. Okeniyi has a supporting role as the son of Cyberdyne exec Miles Dyson, and Simmons is a detective.
Lee is already a huge star in his native South Korea, and lately has been making his presence known in Hollywood as well. He starred in both G.I. Joe movies as Storm Shadow, and had a part in last summer's The Raid 2. His Korean credits include Kim Jee-woon's I Saw the Devil and Chan Wook-park's J.S.A.: Joint Security Area.
Gladis is best known for playing Paul Kinsey on Mad Men. He recently starred in Joe Lynch's Knights of Badassdom and has appearances coming up in Joe Johnston's direct-to-DVD thriller Not Safe for Work and Atom Egoyan's Devil's Knot. Holt had a recurring role in House of Cards and a regular role in the CBS drama Hostages. She's currently shooting Air, an indie sci-fi with Norman Reedus and Djimon Hounsou.
Scripted by Laeta Kalogridis and Patrick Lussier, Terminator: Genesis features a time-jumping narrative that weaves together various plot threads from throughout the film series. It'll also intersect with the planned TV series in some way, but how exactly is unclear. Terminator: Genesis intended to be the first in a new trilogy, and is scheduled to open July 1, 2015.