Sequel Bits: 'Incredibles 2', 'Hobbit 3', 'Taken 3', 'Jurassic World'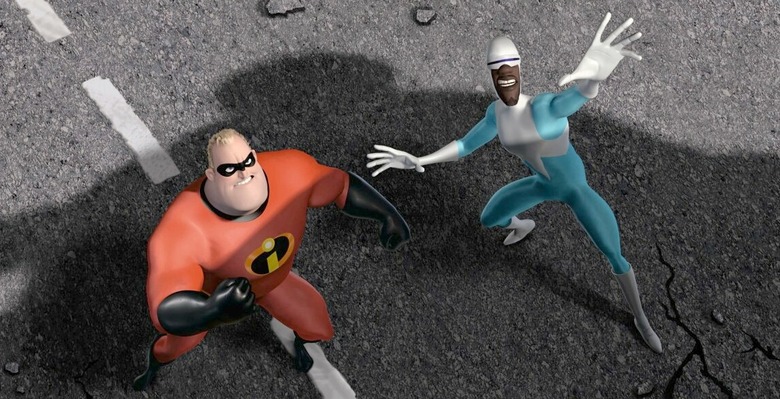 Frozone will be back with his BFF for the Incredibles sequel, according to Samuel L. Jackson. Also after the jump:
Logan Lerman says Percy Jackson 3 is "not happening"
Jonny Weston is signing on for Taken 3
Jurassic World will be shooting at the Honolulu Zoo
Peter Jackson is putting the final touches on the final Hobbit film
The Conjuring franchise could be stalled by a lawsuit
See the How to Train Your Dragon 2 score being recorded
Cameras are rolling once more on Fast & Furious 7
Sharknado 2 gets a poster and a premiere date
Peek behind the scenes of Dawn of the Planet of the Apes
A Haunted House 2

has a red-band trailer to share
The actor backtracked a bit in a different interview, clarifying that he was "contractually obligated" if the studio wanted to make a Percy Jackson 3. But he still seemed skeptical. "I just haven't heard anything about a third film. Unless they call me I think it's unlikely," he explained. While Lerman's getting a bit old for the role at 22, he claims not to mind. "If I was 30, sure I'd play Percy again." [MTV, Independent]
Details on The Incredibles 2 are still being kept under very tight wraps, but Samuel L. Jackson has let one little detail slip. According to the actor, Parr family friend / fellow superhero Frozone will be part of the movie.
"Every time I run into Brad [Bird, director] he always tells me Frozone is part of what's going on [in the sequel], so I have to believe that," he said. "I guess they could be the Incredibles without Frozone, but I think Frozone would be a wonderful addition to what's already there." He added, "I'm just looking forward to seeing what Jack-Jack turned into." [Digital Spy]
The Millses are welcoming a new friend into the fold. Jonny Weston (Chasing Mavericks) has signed on for Taken 3, joining Liam Neeson, Maggie Grace, Famke Janssen, Leland Orser, and Forest Whitaker. He'll play the boyfriend of Kim (Grace). Good luck, guy. Taken 3 arrives January 9, 2015. Olivier Megaton is directing. [Variety]
Jurassic World is heading to Hawaii. According to Hawaii Film & Video Magazine, the sci-fi sequel "set up shop" in Oahu back in January, and plans to shoot at the Honolulu Zoo and Kualoa Ranch. The latter won't be in the movie as itself, though — it'll stand in for Isla Nublar. Eventually, the movie will make its way to a theater near you on June 12. [JurassicWorld.org]
Peter Jackson is just about ready to say goodbye to Middle-earth. The filmmaker is preparing to shoot an early cut of The Hobbit: There and Back Again, the final installment of the Hobbit trilogy, to Warner Bros. execs next week. The final edit hits theaters December 17.
"We are done with filming and they have a bit of motion capture left to do and I have a lot of post-production voice-syncing," star Richard Armitage explained. "I think there is going to be a huge amount of sorrow and nostalgia going on in Peter Jackson's mind because he has lived in Middle-earth for what, 13 years." [SBS via The One Ring]
The Conjuring was a huge hit for Warner Bros. last summer, so it was only a matter of time before the studio started trying to expand the property into a bona fide franchise. There are already a spin-off and a sequel in the works, with the latter scheduled to hit theaters on October 23, 2015. But now a new lawsuit could shut the series down altogether.
The dispute is over trademarks. Evergreen Media holds the rights to the case files of real-life paranormal investigators Ed and Lorraine Warren, and licensed them to New Line. But now, Evergreen argues, Warner Bros. is refusing to pay up and is "stealing" the rights to make more films. Get all the details at THR.
Hiccup and Toothless' airborne adventures just wouldn't be as exciting without a soaring score to match. So here's director Dean Deblois and composer John Powell with an orchestra, recording the How to Train Your Dragon 2 score next door to Abbey Road in London.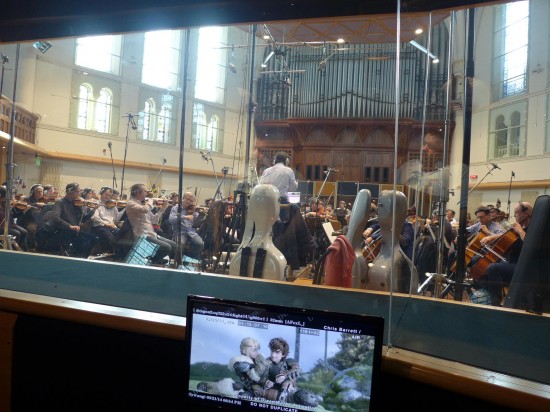 How to Train Your Dragon 2 lands, music and all, on June 13. [Imgur via Reddit]
Production on Fast & Furious 7 has been on hold since Paul Walker's death last November, but now cameras are rolling once again. Director James Wan posted the following photo and caption to his Instagram account today.
First day back filming. Better and stronger. #Fast&Furious7
Fast & Furious 7 races into theaters on April 10, 2015. [via Coming Soon]
Brace yourselves, New York. Sharknado 2: The Second One (which I maintain is a brilliant title) will descend down from the heavens and onto Syfy Wednesday, July 30 — a day earlier than previously announced. Here's a poster to help you prepare.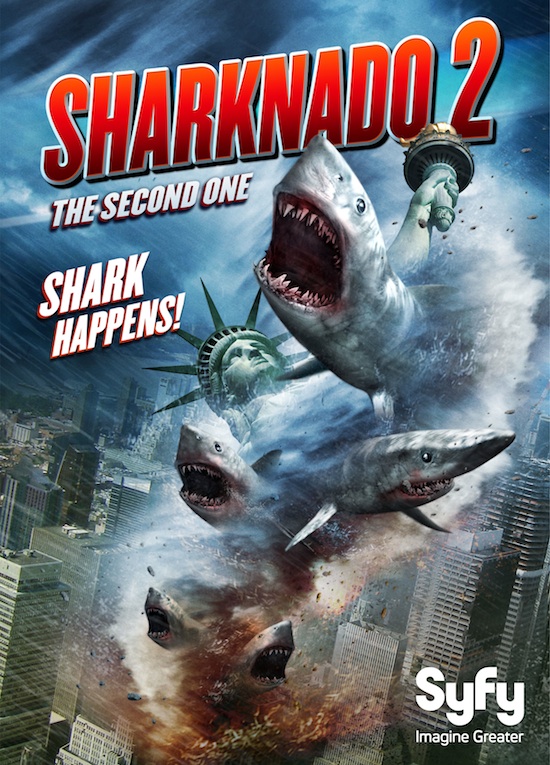 "Shark Happens!" isn't quite as good as "Enough Said!" but then again what is? [TV Line]
What made Rise of the Planet of the Apes special was that it offered plenty of emotion to go with the action, and it looks like the Matt Reeves-directed sequel Dawn of the Planet of the Apes will do the same. There's something heart-wrenching about the new poster, even though we know these damn dirty apes will be the end of us all.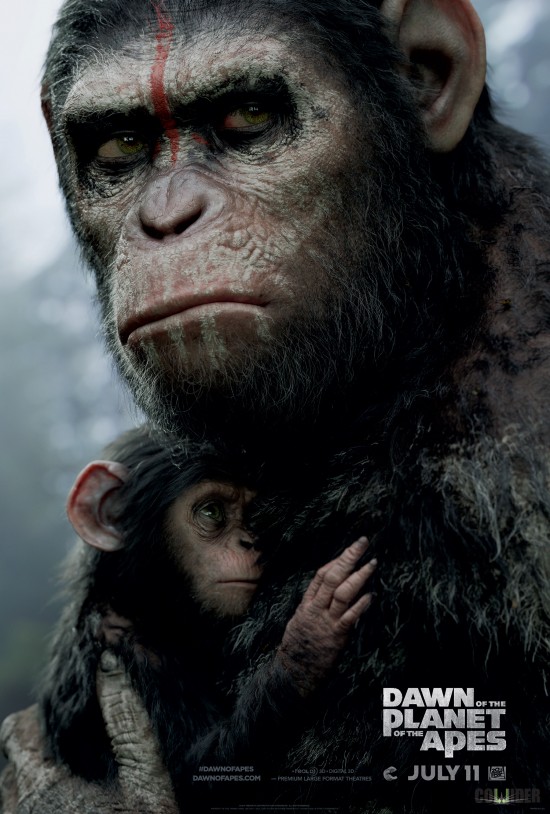 Meanwhile, the mood on set looks a bit more lighthearted. Keri Russell is even smiling in one of these behind-the-scenes photos, like she doesn't know her entire species is doomed.
Dawn of the Planet of the Apes opens July 11. [Collider, Empire]
Marlon Wayans' A Haunted House 2 would like to invite you to look back, Facebook-style, at the first A Haunted House in this new red-band trailer. And then it would like you to look forward at all the pet-killing and doll-fucking that the new one has to offer.
A Haunted House 2 haunts theaters starting April 18. [Yahoo]