Kevin Costner Envisions An Ambitious Western Series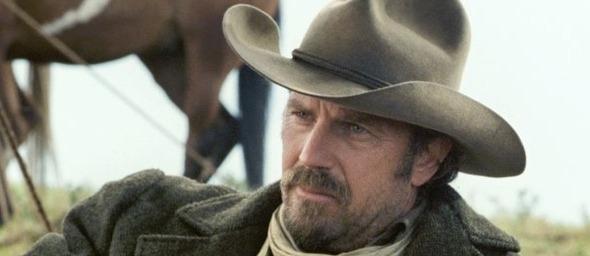 Kevin Costner has been enjoying a career revival thanks to roles in films such as Man of Steel, Three Days to Kill, and Jack Ryan, and particularly the Hatfields & McCoys TV series. He's got Ivan Reitman's film Draft Day coming up, which has been earning great reactions so far. Evidently Costner has decided to get back to work for real, and we won't complain. One outcome could be that we see a new Kevin Costner western series.
And while Costner hasn't directed a film since the 2003 release Open Range, he envisions doing not just one new western, but a series of three or four interconnected films, three of which would be released within the span of just one year.
Speaking with Collider (via The Dissolve) Costner laid out his plan to get back on the range: 
I've got this Western that I think I could make. I actually have this idea to make them all at once and release one on Memorial Day, one on Thanksgiving, and then one on the Fourth of July, all within a 12 month span, because it's all the same story but it truly is a journey, with a fourth movie coming right after. Will I be able to do that? I don't know. But that's what I think about, that's what I try to do. And people go, 'Oh that's really interesting, Kevin. We don't think we can do that.' And I'm thinking 'Man, that's a really good idea.' I thought that was a true ongoing series, or sequel if you will, that actually was an honest one. A second one wasn't invented because the first one made a little money.
So that's a trilogy followed by a fourth film, presumably related.
That description is a far cry from saying "I'm doing this soon," but it's an ambitious and appealing plan. Not merely because I'd be happy to watch another Costner western or three, but because it would really push the boundaries of how film series are released. The rapid-fire release of Nymphomaniac pars one and two is an interesting step in the same direction, but it's great to envision a future where some film series more directly emulate the pre-TV serial model of old.
As boundaries between TV and film talent pools evaporate, could we see a similar coming together of serial release plans? There are many reasons why that might not happen — studios and theaters have a very reliable release plan in place. But someone could shake it up, in the way that Lars von Trier vaguely has this year. Maybe it'll be Costner.