Peter Dinklage Joins 'Pixels' With Adam Sandler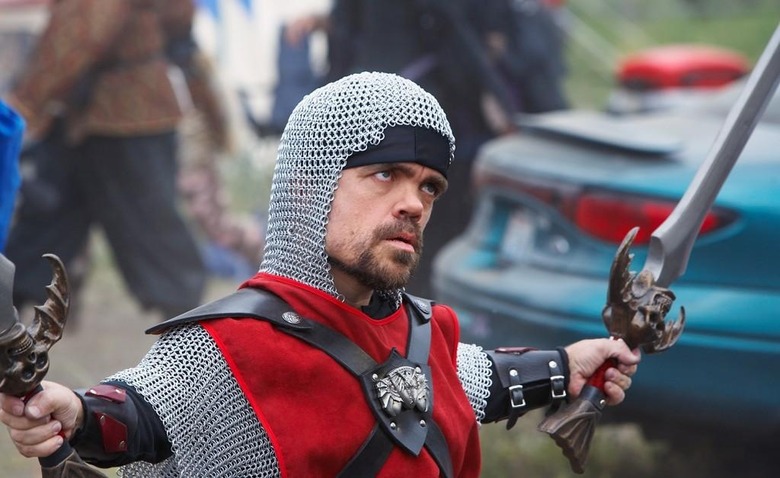 Peter Dinklage could go from waging war on mutants to waging war on video game characters. The X-Men: Days of Future Past actor is in final talks to join Adam Sandler, Kevin James, and Josh Gad in Pixels, the Ghostbusters-esque actioner being directed by Chris Columbus. Get details on the plot and more after the jump.
Pixels is based on Patrick Jean's 2010 short film Pixels: Retro Gamers, which depicted '80s video game characters attacking New York City. The feature film will center on a group of elite video gamers who are recruited by the government to help fight back.
Tim Dowling (Just Go With It) wrote the script, having been hired to rework an earlier draft by Tim Herlihy (Grown Ups 2). Dowling was tasked with making the movie "bigger," as Sony wanted an action-comedy tentpole in the vein of Ghostbusters.
Sandler is producing the film through Happy Madison. King of Kong helmer Seth Gordon was brought on as an executive producer a couple of years back thanks to his expertise on video game culture.
Dinklage has been busier than ever as of late. He plays the villain Bolivar Trask in this summer's X-Men: Days of Future Past, and has the indies Low Down and The Angriest Man in Brooklyn due out in the near future.
And those are just the films he's already shot. He's also attached to lead O' Lucky Day, which sounds like a leprechaun-themed spin on Bad Santa. On top of all that, his HBO series Game of Thrones will kick off its fourth season next weekend.