'Into The Storm' Trailer And Poster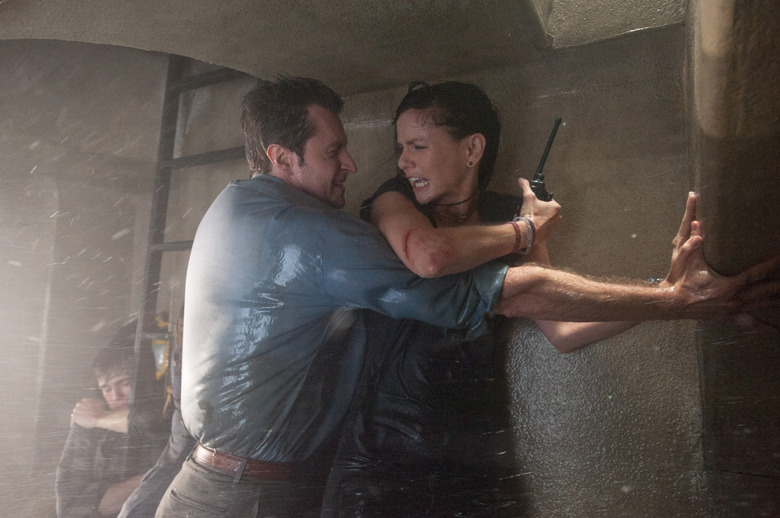 Because we haven't been through enough crazy weather events so far this year, Warner Bros. has just unleashed its first Into the Storm trailer. When a barrage of cyclones hits the small town of Silverton, a group of thrill-seeking storm chasers head out into the chaos to try and document this once-in-a-lifetime meteorological event.
Richard Armitage (Thorin Oakenshield from The Hobbit) stars, along with Sarah Wayne Callies (The Walking Dead), Matt Walsh (Veep), and Jeremy Sumpter (TV's Friday Night Lights). Watch the trailer and check out the new poster after the jump.
The promo doesn't bother laying out the plot and characters, because the appeal of this movie is much simpler and more visceral than that. Either you want to see a big disaster pic about tornadoes ravaging a small town, or you don't.
Though Into the Storm is described as a found-footage film, the trailer doesn't really play up that angle. You'd hardly be able to tell this was a found-footage movie just by watching this promo. Those storm chasers must have access to some very expensive equipment.
Directed by Steven Quale, Into the Storm arrives August 8. Alycia Debnam-Carey, Arlen Escarpeta, Nathan Kress, and Jon Reep also star.
In the span of a single day, the town of Silverton is ravaged by an unprecedented onslaught of tornadoes. The entire town is at the mercy of the erratic and deadly cyclones, even as storm trackers predict the worst is yet to come. Most people seek shelter, while others run towards the vortex, testing how far a storm chaser will go for that once-in-a-lifetime shot.
Told through the eyes and lenses of professional storm chasers, thrill-seeking amateurs, and courageous townspeople, "Into the Storm" throws you directly into the eye of the storm to experience Mother Nature at her most extreme.